Students get covered in foam at end of Raisin Weekend
The annual fight is part of welcome events for undergraduates at St Andrews University.
The normally tranquil town of St Andrews was transformed into a foam pit as hundreds of students took part in the annual Raisin Weekend tradition.
Raisin Weekend has been a tradition at St Andrews University for more than 600 years and comes at the end of welcome events for new undergraduate students.
The university encourages older undergraduate students to take on first years as academic families, in a mentoring programme.
The event has drawn some criticism from residents who say the student tradition has got out of hand and this year police warned students not to engage in antisocial behaviour.
Traditionally, Raisin Weekend was a chance for first year students to thank their third or fourth year academic "parents" - a male and female assigned to mentor a group, creating "families" of several students.
After being at the university for a few weeks, students would visit their mothers for an afternoon tea and their fathers for an evening meal, bringing a pound of raisins as a thank you gift for welcoming them to St Andrews.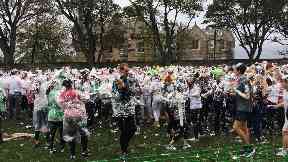 Bad children who did not bring their parents a gift were dunked in the town's fountain as punishment.
To prevent this, parents wrote receipts for their children when they brought gifts, ensuring the student remained dry throughout the weekend.
Over several centuries, this tradition evolved. Students still bring their parents gifts but today it is more likely to be a bottle of wine.
The receipt, while still written in Latin,is used to provide entry into the annual foam party held on the St Salvator's Quad.
On Monday morning, children visit their mothers to be dressed up - usually in some sort of fancy dress costume - and then visit their fathers to obtain their receipt before making their way to the quad. While the outlandish costumes from the mothers are always something of a talking point, nowadays fathers also compete to see who can write their receipt on the strangest items.
Past recipients have included a giant teddy bear and old pieces of furniture - one student had the unfortunate task of lugging around a broken tumble dryer in 2008. The receipt serves as entry into the shaving foam fight.
Armed with a can of shaving foam, students spend the next hour drenching each other before the tower bell rings 12.
Like Cinderella, the party is over and most students opt to head back to their dorms, clean up and take a nap.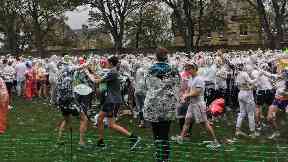 Download: The STV News app is Scotland's favourite and is available for iPhone from the App store and for Android from Google Play. Download it today and continue to enjoy STV News wherever you are.