World's most expensive dram of whisky exposed as fake
Laboratory tests in Fife revealed the Macallan 1878 was distilled almost a century later.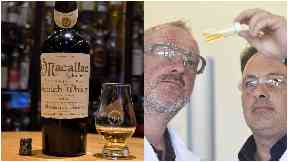 One of the world's most expensive bottles of whisky has been exposed as a fake after laboratory tests revealed it was almost a century younger than stated.
A dram from the unopened bottle of Macallan 1878 was sold for £7700 at a Swiss hotel in August.
Writer Zhang Wei, from Beijing, paid what is thought to be the highest amount for a dram of single malt.
If the bottle, kept at the Waldhaus Hotel Am See in St Moritz, was genuine it would have had a value of £230,000.
Experts questioned the authenticity of the bottle following publicity around the sale to Zhang.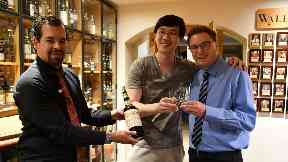 Whisky valuers RW101, based in Dunfermline, Fife, were called in to verify when the bottle came from.
A sample was flown back to the UK for tests and it underwent carbon dating at Oxford University.
The research laboratory concluded there was a 95% probability that the liquid was created between 1970 and 1972.
Further tests found it was most likely a blended whisky made of 60% malt and 40% grain.
Following the investigation, the hotel's owners flew out to China to hand Zhang a refund.
Manager Sandro Bernasconi said: "When it comes to selling our customers some of the world's rarest and oldest whiskies, we felt it was our duty to ensure that our stock is 100% authentic and the real deal.
"That's why we called in RW101. The result has been a big shock to the system and we are delighted to have repaid our customer in full as a gesture of goodwill."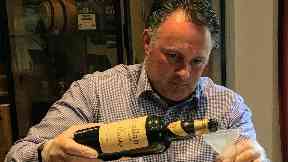 Co-founder of RW101 David Robertson said: "The Waldhaus team have done exactly the right thing by trying to authenticate this whisky.
"Over the past year, we have been invited by numerous bottle owners and auction houses to assess suspicious bottles.
"Indeed, we've noticed an increasing number of old, rare archive or antique bottles coming to market at auction and it's difficult to know how prevalent this problem is.
"We would implore that others in the market do what they can to identify any rogue bottles."
He said anyone with a bottle of whisky said to be distilled before 1900 should have it tested.
Download: The STV News app is Scotland's favourite and is available for iPhone from the App store and for Android from Google Play. Download it today and continue to enjoy STV News wherever you are.