Rape evidence dismissed after 'tainted' police report
The judge said that the accused only gave evidence after being mislead by police.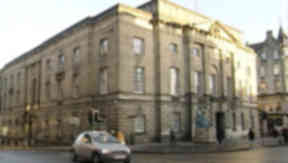 Evidence in a rape trial was dismissed after a judge branded a police officer an "evasive and not credible" witness.
Judge Lady Scott revealed that she had barred the jury from hearing Jake Hawkins, 22, police interview after calling the questioning of him "wholly improper".
Mr Hawkins was found not guilty of raping a woman at a property in Dundee in August 2016.
Mr Hawkins was advised by his solicitor to answer "no comment" to all questioning, but Judge Scott said the interview was inadmissible after ruling that police had sought to "undermine" that decision.
Mr Hawkins told the court that police made him feel his solicitor "didn't care or know what he was doing" and that the person who had given him advice before his interview was "rubbish and didn't know what was going on".
As a result, after more than an hour of maintaining his right to silence, Hawkins said he "didn't know whether he could trust his lawyer" and that he was "making a bad decision listening to the solicitor".
He then told officers "it seemed wrong saying no comment" before giving a lengthy narrative of "incriminatory" statements to police.
But judge Scott ruled the interview was "tainted" because of "undue pressure" applied to Hawkins.
She said statements given by accused people must be "spontaneous and voluntary" and that the Crown "had not established this interview was fair and the statements made can properly be said to be voluntary".
In a 12 page written report, the judge blasted one officer - identified only as DC Anderson of Tayside Division in Dundee - and said police had effectively "cross examined" Hawkins, a tactic long ruled illegal.
'I did not find DC Anderson a credible witness.'

Judge Lady Scott
The judge wrote: "I did not find DC Anderson a credible witness.
"On occasions he did not always directly answer questions and he shifted his position (for example as to whether he had misled the accused).
"I found him evasive and in particular I found his denial that he sought to undermine the legal advice given, not credible.
"I accepted the evidence of the accused.
"In particular I accepted that he understood the statements made about his solicitor was that the solicitor gave him bad advice and the effect upon him was he did not know whether he could trust him."
Lady Scott added that Hawkins was asked 213 separate questions about the alleged rape - and had replied "no comment" to each one.
The detectives insisted they were "impartial" - but then told Hawkins they believed he was responsible for the rape and knew he had done wrong.
They also told Hawkins his lawyer didn't know what evidence they had against him - which the cops knew was a lie.
She added: "On repeated occasions and at length, the police suggested to the accused he should reconsider the advice of his solicitor to make no comment.
"Although the police also told the accused it was his right or choice not to answer, the admitted purpose behind these statements was for the accused to change his position and the way this was done constituted pressure.
"Within this statements were made to the accused about his solicitor and the legal advice given.
"This included the suggestion that the solicitor did not know what the evidence was, which was a suggestion the interviewer knew had no factual basis.
"Here there did not appear to be any other purpose for making these statements, other than to undermine the legal advice in the effort to get the accused to depart from it.
"It should be obvious to the police that to seek to undermine a solicitor's advice to a suspect is wholly improper."
Download: The STV News app is Scotland's favourite and is available for iPhone from the App store and for Android from Google Play. Download it today and continue to enjoy STV News wherever you are.