Canadian artist 'plagiarised' Fringe photos of comedians
Derek Michael Besant allegedly passed off the images as residents of Calgary.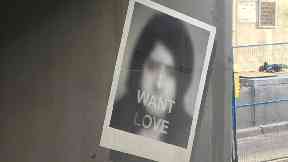 A public art installation in Canada will be removed after Edinburgh Festival Fringe comedians accused the artist of "plagiarising" their pictures.
Canadian artist Derek Michael Besant was paid 20,000 Canadian Dollars for staging the artwork, the equivalent of around £12,000.
The work includes 20 large portraits featuring blurred faces of people he claimed were residents of Calgary, where he has been active since the early 1970s.
A chance encounter led to accusations the images were actually taken from a 2015 brochure listing comedians performing at the Edinburgh Festival Fringe, including Hardeep Singh Kohli.
Calgary is now removing the art installation from an underpass after performers complained it used photos of them without their permission.
Kurt Hanson, general manager of community services in Calgary, said authorities had been made aware of concerns over the installation.
He said: "The artist has said that we should remove the installation. We will be doing this and are considering our next steps."
Performers who took part in the Edinburgh Festival Fringe in 2015 have accused Besant of being a "plagiarist".
One of the comedians, who recognised a picture taken of her in 2013, was London-based comic Bisha K Ali.
She said a photo of her was used without her or her photographer's permission in the art installation.
'It is ripping off artists and photographers who spent their time and money taking those for the Fringe.'

Bisha K Ali
The 28-year-old said: "My friend who lives in Canada sent me a picture and said they had been walking one day and noticed a piece of art that looked like me.
"I couldn't believe the coincidence - it was a picture of me that featured in a 2015 brochure from the Edinburgh Fringe Festival.
"It's plagiarism, and it is ripping off artists and photographers who spent their time and money taking those for the Fringe and creating the brochure."
She added: "The audacity of having 7ft portraits of comedians is unbelievable.
"It has been on display since 2015, he [Besant] probably thought no one would notice."
A spokesman for the Edinburgh Festival Fringe Society said it would speak to Canadian authorities to "understand how this has occurred".
The art project, known as Snapshots, was installed in October 2015 at an underpass in Fourth Street, Calgary, and was meant to portray the lives of ordinary people who use the underpass.
Commissioned by Calgary's Planning, Development & Assessment department, the project featured large images of slightly blurred faces with various short phrases printed over them.
"I live here" and "I walk to work" are some of the phrases laid over the photos.
At the time, Besant said: "The portraits represent a cross-section of what any downtown core of a big city reveals and conceals as the flow of occupants.
"The reference to Polaroid snapshots invites an immediacy... an intimacy, to what is a high traffic public art context.
"And between the hundred steps it takes to traverse this corridor, we might just come face-to-face with ourselves..."
Mr Besant has been approached for comment.
Download: The STV News app is Scotland's favourite and is available for iPhone from the App store and for Android from Google Play. Download it today and continue to enjoy STV News wherever you are.