Young hospital patient helps Santa light up Jenners tree
McKenzie Brackley, four, has spent the last year at the Royal Hospital for Sick Children.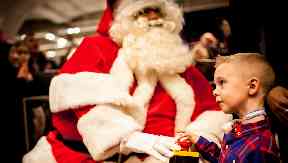 A four-year-old boy who has spent the last year being treated at the Royal Hospital for Sick Children helped Santa switch on the Christmas lights at Jenners in Edinburgh.
McKenzie Brackley, from Leven in Fife, stepped up to the mark in front of a crowd of shoppers to assist with the ceremony in the department store.
In front of his mother, Amy, and the rest of his family, he pressed the button to light up the giant tree, as well as the surrounding area, while the Sick Kids Staff Choir sang some Christmas classics.
McKenzie has spent the past year undergoing treatment for a rare viral infection that left him paralysed.
He recently celebrated his release from hospital by helping to choose the famous tree.
Jenners donated the prize of the switch-on to the Girly Get Together, an annual fundraiser held by the Edinburgh Children's Hospital Charity (ECHC), and the prize was donated back to the hospital.
Ms Brackley said: "We're so proud of McKenzie and just want to thank everyone at Jenners for making everything so special.
"It's thanks to the fantastic support of ECHC that he was able to enjoy many different activities while at the hospital and also afterwards, such as things like the Christmas light switch on.
"The work that ECHC does really helps to break up the monotony that can creep in during hospital stays and they understand that they can really play a major role in keeping the spirits of the whole family up."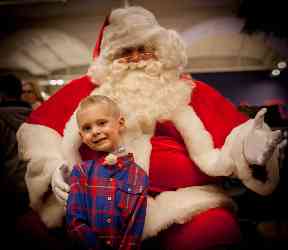 Alan Thomlinson, manager at Jenners said: "We are just delighted we can help spread the festive cheer in this way.
"You can see from McKenzie's face what it meant to him and also to his family which makes it really worthwhile.
"It's brilliant that we can partner with such an important charity like ECHC to help make events like this happen."
Fiona O'Sullivan, arts programme manager at ECHC, said: "We are so thankful to both Jenners and the kind winner of the Christmas tree light switch on, Barbara Griffith, for donating the prize back to us.
"We are always looking to make sure we give the children special experiences both during their stay in hospital, and afterwards, following their release.
"Days like this one really help children like McKenzie be a child and enjoy themselves without the worry or stresses of any treatment they're going through or have received."
Download: The STV News app is Scotland's favourite and is available for iPhone from the App store and for Android from Google Play. Download it today and continue to enjoy STV News wherever you are.