Five rare £1 notes sell for more than £10,000 at auction
The anonymous seller from Falkirk was said to be left speechless from the sale.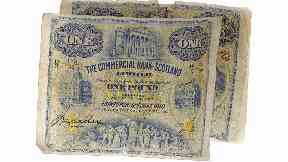 A small collection of £1 notes from the early 20th century have sold for more than £10,000 at auction.
The five banknotes were dated between 1908 and 1918 and had signatures from the bank's accountant and cashier, which increased their value.
The anonymous seller from Falkirk was said to have been left speechless by the sale of the notes.
Telephone and online bidders from around the world competed for the notes at McTear's Auction House in Glasgow.
Sarah Cotter, head of jewellery, watches and coins at McTear's, said: "The notes were in a worn condition and the seller didn't really have any great expectations when he brought them in.
"Needless to say he got a bit of a shock when the auction started and the bids got higher and higher.
"It can be hard to imagine banknotes selling for several thousand times their face value, but rare notes like these are hugely desirable, with collectors across the globe willing to pay significant sums to acquire them.
"We know from experience that there are old coins and banknotes hidden at the back of drawers and cupboards in households across the country, so it is definitely worthwhile taking a bit of time to have a look.
"You never know, that old note may be worth considerably more than the number on the front."
The world's most expensive coins:
The first ever dollar coin issued by the United States government sold for £5.55m at an auction in 2005. The coin was minted during 1794 and 1795. 
An American double eagle coin minted in 1849, at the time of the California gold rush, sold at an action for £5.37m. The coin was originally worth $10. 
One of only three known surviving Edward III coin was sold at auction for £4.81m. The coin was minted between December 1343 until July 1344.
A silver dollar minted in 1804 was sold for £2.93m. It is one of only 15 known silver dollar coins from that year.
A $1m (£570,600) Canadian Queen Elizabeth II coin was sold for £2.28m in 2010. The 100kg coin is the largest and purest gold coin in the world. 
In 2013, a Class I silver dollar sold for £2.64m. The coin was minted in 1834. 
A liberty head nickel - worth five cents - was sold for £2.62m in 2013. The coin was produced in limited quantities making it very rare - a perfect condition coin would be expected to fetch around £14m. 
A brasher doubloon from 1787 sold at auction for £2.11m. Ephraim Brasher was a gold and silversmith who petitioned New York to be allowed to mint coins. His petition was denied but Brasher ignored this and minted various gold coins in the following years. A second doubloon sold for £1.7m. 
Download: The STV News app is Scotland's favourite and is available for iPhone from the App store and for Android from Google Play. Download it today and continue to enjoy STV News wherever you are.