Pupils return to school after building destroyed by fire
Staff and pupils were forced to flee Cairneyhill Primary School near Dunfermline last year.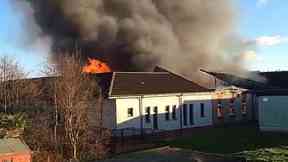 Pupils and staff from a Fife primary school are to return to the site after they were forced to flee from a fire last December.
Classes will resume at Cairneyhill Primary School near Dunfermline on Monday April 16, after the holidays finish.
More than 200 children and staff were evacuated after the blaze spread through a significant portion of the building.
Most of the buildings on the site have been restored, however, temporary classroom will replace the rooms which were destroyed.
Pupils were taught at Tulliallan in the interim.