Dolly the sheep cloner reveals Parkinson's diagnosis
Professor Sir Ian Wilmut made the announcement on World Parkinson's Day.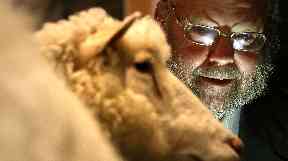 The scientist who led the team which created Dolly the sheep - the first mammal cloned from an adult cell - has been diagnosed with Parkinson's.
Professor Sir Ian Wilmut made the announcement on World Parkinson's Day on Wednesday.
He is championing a new initiative at the universities of Edinburgh and Dundee, where scientists will test therapies which could slow the progress of the disease.
Sir Ian said: "Initiatives of this kind are very effective not only because they bring more people together but because they will include people with different experience and expertise.
"It was from such a rich seedbed that Dolly developed and we can hope for similar benefits in this project."
Dolly the sheep was created in 1996 by a multidisciplinary research team led by Sir Ian.
Their pioneering work in cloning at the University of Edinburgh's Roslin Institute paved the way for others to develop a way to produce programmable cells called iPSCs.
Edinburgh scientists were the first in the UK to produce iPSCs from Parkinson's patients.
There are around 12,000 people in Scotland with the condition and the number of sufferers in the UK is expected double over the next 50 years as the population grows and people live longer.
Dr Tilo Kunath from Edinburgh's Medical Research Council Centre for Regenerative Medicine added: "People with Parkinson's urgently require access to earlier and more accurate diagnosis, better prediction of how their disease will progress, and most importantly the opportunity to participate in clinical trials of new treatments.
"This new research partnership aims to make these hopes a reality for people in Scotland."
Download: The STV News app is Scotland's favourite and is available for iPhone from the App store and for Android from Google Play. Download it today and continue to enjoy STV News wherever you are.