Scots schoolboy attacked by shark while on holiday
Shane McConnell was left needing 53 stitches after he was bitten by a bull shark.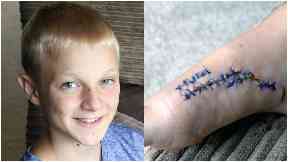 A Scottish schoolboy has survived being bitten by a shark while on holiday in the Bahamas.
Shane McConnell, 12, suffered injuries to his legs when he was attacked by a bull shark in a harbour in Bimini Island.
Doctors believe the tough rubber swimming shoes Shane was wearing helped to prevent more serious injuries.
Shane, from Balerno in Edinburgh, still had to have 53 stitches after being rushed to hospital following the ordeal earlier this month.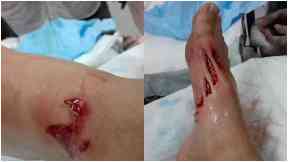 He said: "I was walking along the marina when it happened. I put my hand over my eyes to block the sun out because it was so bright, and accidentally tripped on a metal cleat and fell into the sea.
"I was scared, because I knew there were sharks around - I had seen the shadow of one earlier that day.
"I knew I had to get to the ladder, but my lucky cap had flown off my head and floated away.
"I swam to grab it and, when I was swimming back to the ladder, I saw half a shark's body come out of the water.
"I saw its tail and fin - it was big and it was grey.
"I was splashing a lot, and I think it thought I was food thrown in for it."
'I saw Shane's blonde hair and his cap, and my legs turned to jelly. I started shaking and crying.'

Debbie McConnell
He went on: "I shouted for help when I saw it, but then it disappeared under me.
"I felt it brush my hand - I thought it had missed me."
After he got back to shore security guards saw he shark had sunk its teeth into his feet. Shane had gone into shock and did not initially realise he had been bitten.
Shane's father Jim, 56, a support worker for adults with special needs, was first to arrive at the scene.
He said: "I saw someone laying on the ground. I recognised the T-shirt and shorts and I knew it was Shane. I ran over, and immediately went into first aid mode.
"At first I thought he had climbed down the ladder to feed the sharks and actually started giving him a row.
"But then I saw his feet and the large puncture wounds, and saw the blood after the towels had been taken off. I realised it was serious."
Shane's mum Debbie, 48, a supermarket worker, arrived a few minutes later, after being told by strangers at the pool about a shark attack at the harbour.
She said: "I saw Shane's blonde hair and his cap, and my legs turned to jelly. I started shaking and crying.
"I was in shock. I couldn't believe it, and I ran over to him and held his hand.
"Shane kept saying he was alright and reassuring me, but it was the adrenaline in him I think - that's why he couldn't feel any pain.
"I just kept thinking what could have happened. What if? He could have lost his feet or his legs, or worse, been killed."
Download: The STV News app is Scotland's favourite and is available for iPhone from the App store and for Android from Google Play. Download it today and continue to enjoy STV News wherever you are.