Scotland's largest sewage works celebrates 40 years
Ian Carnevale has worked at Seafield plant since before its opening in 1978.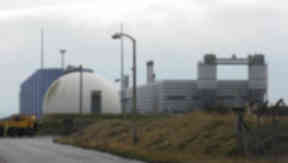 Seafield, Scotland's largest waste water treatment works, is celebrating its 40th anniversary.
The site in Edinburgh processes 300 million litres of waste water every day, enough to fill 121 Olympic-sized swimming pools.
Scottish Water said it is a hugely important part of Scotland's infrastructure and is critical to keeping the cycle flowing for almost a million people.
The site also generates electricity and produces waste for agricultural use.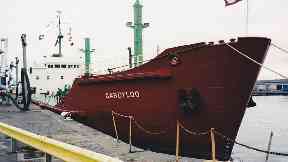 Over the last four decades it has been transformed from a much smaller site which treated and separated waste water from untreated sewage disposed of in the Forth via the MV Gardyloo ship.
And no-one knows more about the changes at the site better than Ian Carnevale who has worked at Seafield since before its opening in April 1978.
'We had to deal with a lot of unpleasant things back in the beginning.'

Ian Carnevale
Ian, 62, said: "We had to deal with a lot of unpleasant things back in the beginning, like pulling dead birds, vermin and even dogs out when they got caught in the screens with the bricks, stones and chuckies.
"Our safety equipment was more or less hard hats, boots and gloves so we had to be careful as we got a lot of cuts and grazes and used to be given regular injections due to the type of stuff we were handling.
"Working and loading the Gardyloo was hard work which was particularly foul in the summer as we did the loading from the dock side and then had to clean out our tanks by hand. But we knew the job had to be done and was benefiting the whole city."
In the early 1960's it was clear Edinburgh's ageing sewer network which still relied on large parts of infrastructure built by the Victorians was not fit for a growing modern capital city.
In 1966 feasibility studies were carried out by the then Edinburgh Corporation for a new sewage disposal scheme.
The decision was taken to build Scotland's largest waste water treatment works from reclaimed land at Seafield in Leith.
In February 1978, Ian, then aged 22, joined Lothian Regional Council and began working at Seafield ahead of its official opening.
He began as one of five day operators. There was just ten members of staff in what was then only a primary treatment works.
'Our main role was to take grit, rags, and solid waste out from the liquid which was then piped straight into the Forth.'

Ian Carnevale
Ian, from Dalkeith, said: "When we first started everyone was feeling their way as to what the best processes should be. Our main role was to take grit, rags, and solid waste out from the liquid which was then piped straight into the Forth.
"At the beginning they didn't even know how much solid waste we'd have and how many sails they'd need from the Gardyloo whether it was going to be two or three a day or a week."
After a month the council realised they needed a shift system in place and Ian moved to work in a three-man team as a process operator.
In 1984 he was promoted into his role as process controller where he stayed for 15 years until the Private Finance Initiative (PFI) of Stirling Water and Veolia took over running Seafield from East of Scotland Water.
By then the Gardyloo had been taken out of service, the site expanded to 20 acres and serving 800,000 people across Edinburgh and the Lothians.
Ian, a dad-of-one, said: "Over the years the technology has changed completely, it's like night and day. It's a lot more technical now due to the amount of investment we've had."
The plant is capable of producing up to 2300 kilowatts of sustainable electricity.
This is produced by gas powered generators which use the gas produced in the six digesters on site to generate this "green" power.
A multi-million pound plan to improve odours produced by the plant was completed six years ago.
After his 40 years' service Ian feels the job has provided him with a number of advantages, including being able to keep fit by walking and climbing around the large site.
'The public can play their part, by being careful what goes down the loo.'

Ian Carnevale
He also takes pride in his job providing a vital service to the people of Edinburgh and the Lothians and urges people to do their bit to help the staff at Seafield.
Ian said: "One of the biggest problems we had back then was rags getting in and clogging up the system and today it's wipes, so it's different material causing the same problem 40 years on.
"The public can play their part by being careful what goes down the loo, and not things like wipes, sanitary products, cotton buds and stuff like food waste and fats and oils."
And asked what had surprised him the most he said: "I'd never have expected a major fast food outlet like McDonald's to open up opposite a sewage treatment works. I think that proves Seafield is very much part of the fabric of the city and here to stay."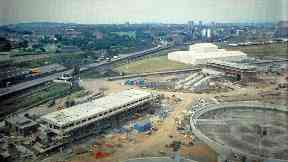 Veolia said it hoped to move Seafield towards energy self-sufficiency in the coming years.
A Scottish Water spokeswoman said: "Seafield has played a crucial role to the capital for the last 40 years and will continue to do so as the city expands.
"This milestone anniversary comes as we look to shape the future of Scotland's drinking and waste water with the launch of our consultation to address the key challenges and opportunities facing Scotland's water industry in the decades to come.
"We are also preparing plans to ensure we can provide a continuous supply of high-quality drinking water, protect and enhance the environment, support Scotland's economy and communities and invest in future water services."
Download: The STV News app is Scotland's favourite and is available for iPhone from the App store and for Android from Google Play. Download it today and continue to enjoy STV News wherever you are.