Litter of puppies reunited with mother for first birthday
Poppy, an Irish Setter, gave birth to an astonishing 15 puppies last year in the Borders.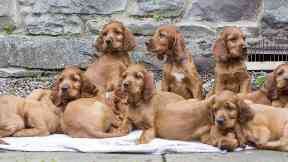 An adorable litter of puppies has been reunited with its mother for the first time in a year.
Poppy, an Irish Setter, was due to give birth last year to an estimated eight to ten pups, but owner Lisa Wardle, from Galashiels in the Scottish Borders, could not believe her eyes when the tiny dogs just kept coming.
In total proud mum Poppy gave birth to an astonishing 15 puppies.
Owners of 11 of the 15 dogs have kept in touch and on Saturday they were reunited to celebrate the litter's first birthday.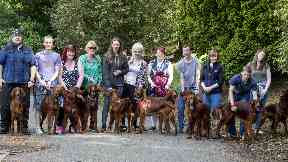 The puppies are called Patch, Negan, Letty, Forest, Bracken, Cesar, Cooper, Kerry, Poppy Jn, Effie, Cody, Rosa, Rogan, Mia and Rusy.
Lisa, 40, had planned to give away all of the red-haired dogs but ended up keeping two, while her daughter claimed another.
The record for the most puppies for a Setter to give birth to is 16.
Lisa, a mother-of-three, said: "We didn't intend to keep any but we ended up with two.
"We kept Patch, the only one with a white flash on his head, and another boy called Negan - who is named after the Walking Dead character.
"Our daughter Abi took a girl pup called Letty.
"It didn't work out quite how we planned but I wouldn't be without them - I would have kept all 15 if I had been allowed."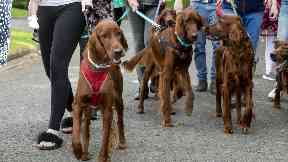 Lisa set up Poppy's famous 15 Redheads, a group on Facebook, so the pups owners could stay in touch.
She said: "We share pictures of them, their antics, and what we have been up to with them."
Lisa's family, which includes husband Peter, 51, and sons Ben, 17, and Jack, eight, as well as daughter Abi, 19, described the last year as "crazy".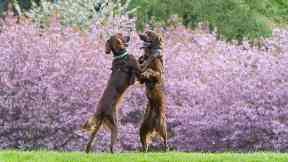 Lisa said Poppy, three, loves having her boys Patch and Negan with her at home.
She said: "For the first couple of weeks she was very protective of Patch and Negan.
"I think because she had such a big litter she didn't get the chance to play the mum role, so when it was whittled down to the two of them she really became the mum.
"Letty is always happy when she is reunited with her Poppy - they just instantly know when they are all together and get so excited."
However, the last year hasn't been all plain sailing for the dogs as Negan was diagnosed with Wobbler Syndrome - a disease of the cervical spine at the neck.
Lisa said: "Poppy bumped to Negan when she was running about quite fast and he started walking like a soldier - slapping his feet down.
"He couldn't stand or cock his leg and had to lie down when he was eating.
"The vet said he had wobbler syndrome which is common in big dogs, but for two months he couldn't be off the lead on walks and was on steroids.
"You feel totally helpless when he was away at the vet overnight because you didn't know what was happening."
Negan weighs in at 35kg and is almost 5ft 6inches when standing on his hind legs, while pup Patch is 40kg and about 5ft 2inches on his back legs.
Last year after Poppy gave birth Lisa said: "I just love how good-natured Poppy is.
"I want other families to have dogs just like her, that's why I wanted to do this. She's beautiful."
Lisa took time off work to care for Poppy so she could be comforted when giving birth.
Download: The STV News app is Scotland's favourite and is available for iPhone from the App store and for Android from Google Play. Download it today and continue to enjoy STV News wherever you are.