Sister-in-law delivers nephew in car outside her front door
As soon as Milena Biewald left to travel to hospital in Kirkcaldy she realised it was too late.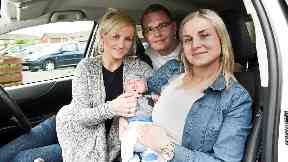 A woman spent her Saturday night delivering her sister-in-law's baby in a car outside her front door.
Milena Biewald, 26, and her husband Andrzej, 30, were heading to the hospital from sister Aldona's house but did not get moving before their son started to arrive.
Aldona, 35, said the couple had popped by to drop off their daughter Vanessa at her house at Rosyth, Fife, because Milena was having stomach pains.
However, as soon as they went to set off towards the hospital in Kirkcaldy it was too late.
Aldona jumped into action with the help of NHS staff who talked her through the whole process over the phone.
She said that she tried to stay calm throughout the quick delivery, which she thought lasted far longer than it did.
She said: "I grabbed two passers-by and told them to ring for an ambulance.
"We couldn't even get her in the house because the baby was coming that quickly.
"It may have been a quick birth but, for me, it felt like a long time.
"I just tried to keep calm and did what I needed to do but it was scary.
"The medical staff were very congratulatory and said I should think about becoming a midwife.
"I would do it again if it was needed but maybe not in a car."
Maksymilian Biewald was born at 5.45pm on May 12, weighing 8Ibs and arrived before an ambulance had reached the scene.
Mum Milena only started having contractions less than two hours before the arrival of her new son.
She said: "I first started having contractions at 4pm and less than two hours later my baby was here.
"My husband was away for only two minutes to drop off our daughter at Aldona's and when he came back I said it's coming already.
"He couldn't believe it and said it's not possible and I said it is - look!
"I don't remember much - it wasn't until after that Aldona explained what had happened and that some people had called an ambulance."
Download: The STV News app is Scotland's favourite and is available for iPhone from the App store and for Android from Google Play. Download it today and continue to enjoy STV News wherever you are.