No regrets: Dad who bought Forth Bridge art despite view
Stuart Slicer spoke to STV News about his experience of becoming an internet hit.
A man who purchased a picture of the Forth Bridge despite being able to see the structure from his living room window has spoken of his experience of going viral.
Stuart Slicer, 58, spent hundreds of pounds on the 10ft by 4ft print at a fundraising dinner for Queensferry's annual Ferry Fair on Friday and picked it up in a transit van the next day.
His son, also called Stuart, posted a video on Twitter showing just how similar the photograph was to the view from the window.
He tweeted: "Seemingly he forgot he could just open da blinds."
The video has now been seen more than three million times.
Stuart Snr told STV News: "I got a phone call from my son who put it online and he had to warn me in case I get a reaction from people in my work, and said it got 10,000 views on Twitter.
"As far as I'm aware it's went up to 2.7 million.
"It's hard to comprehend 2.7 million views but it's a bit of fun and people are getting a laugh out of it, a joke out of it.
"And if the joke's on me and folk say 'are you happy with that?' I can live with that."
Explaining his decision to buy the print, Stuart Snr said: "It's just a great picture.
"The real bridge is an icon and I thought: I'll have that."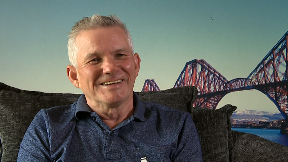 He added: "The view is amazing from my window but last week you couldn't see the bridge for the haar coming in, so there you go.
"I was quite happy with the purchase at the time."
However, it turned out his wife Helen was not so happy about the acquisition, while both his son and daughter told him it couldn't go up on the wall.
"I would have liked it still to go on the wall but I think I've been overruled," Stuart Snr said.
Asked if having a few drinks at the fundraiser might have had something to do with the purchase, he added: "That's one of the reasons we go.
"That's one of the reasons they raise so much money, when people have maybe that wee tipple too much, and it encourages you to go that wee bit extra."
He added: "One of the reasons I moved to Queensferry 30 years ago was because of the bridge and I still love viewing it every day when I get up in the morning until late at night."
Stuart Snr and his wife now plan to sell the picture and give the proceeds to charity.
Download: The STV News app is Scotland's favourite and is available for iPhone from the App store and for Android from Google Play. Download it today and continue to enjoy STV News wherever you are.