Protester cleared of threatening behaviour at consulate
Sean Clerkin entered the Spanish consulate in Edinburgh as part of a demonstration.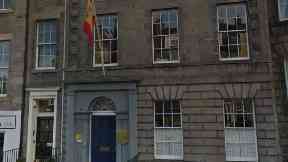 A protester has been cleared of behaving in a threatening and abusive manner at the Spanish consulate in Edinburgh.
Sean Clerkin entered the consulate on North Castle Street on September 27 last year to protest against Spain's actions following the independence referendum in Catalonia.
After three days of evidence at Edinburgh Sheriff Court, Sheriff Alistair Noble found Mr Clerkin, of Barrhead, Glasgow, not guilty of the charge on Tuesday.
The sheriff said although there was "an understated element of fear and alarm" in the evidence, only one witness had said she was "scared at the beginning" and that the protesters had left after only a few minutes.
Clerkin, he said, had gained access by subterfuge and had ignored the security officer, but the evidence was not sufficient to constitute a breach under the legislation.
Clerkin had been charged with acting in a threatening and abusive manner, gaining access to the consulate by way of deception, shouting he and others were occupying the building, filming members of the public and staff and refusing to leave the premises when requested.
He was charged with placing members of staff and public in a state of fear and alarm.
The court heard that the press were invited to attend at the consulate on September 27 last year by the pro-independence campaign group Scottish Resistance to witness a protest against the Spanish government.
Clerkin gained access to the consulate by ringing the doorbell and telling the security officer he was requesting a visa so he could go on holiday to Andalusia.
When he gained entry, three other protesters and two photographers from the media came in.
CCTV footage showed staff telling them to leave and the protesters shouting "Freedom for Catalonia".
They also described Spain as a "fascist and barbaric state" and referred to Spanish police destroying ballot boxes and assaulting individuals.
Clerkin denied causing fear and alarm, but admitted he had made reference to a bomb attack in Barcelona just five weeks before the consulate raid and admitted it might have been reckless of him to do so.
James Scott, the founder of Scottish Resistance, told Sheriff Noble that the press had been invited to witness a "peaceful demonstration" and that two photographers had come into the consulate with the three protesters, while others had asked for the Scottish Resistance flag to be held up at the consulate window.