Baby left with blisters after cigarette 'flung' into pram
The cigarette burned through the five-week-old's snowsuit as she sat in her buggy.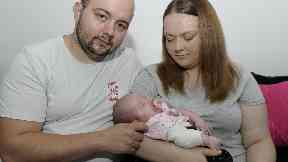 A baby has been left with blisters after a smoker's discarded cigarette landed in her pram.
Mum Amy Harnaman grabbed screaming Sophia, took off her smouldering coat and rushed home to douse the wound in cold water before rushing her to hospital.
The family of the five-week-old are hoping she has no lasting scar on her arm, and are now using their story to warn smokers to be more careful.
The accident happened on Tuesday in Wester Hailes, Edinburgh.
Amy, a 23-year-old nursery worker, and her daughter were on their way back from picking up Sophia's five-year-old sister, Eilidh, from Clovenstone Primary.
"I got her out of the buggy, stripped her down out of her snowsuit and checked her arm," Amy said.
"There was a blister starting so I got her up to the flat and stuck it under cold water - she's still unsettled and still in a bit of pain.
"I just think people should be more aware of their surroundings and dispose of cigarettes properly."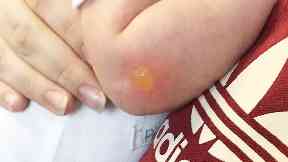 Amy's sister, Chloe Louise Martin, was with them when they smelt smoke as they passed a bus stop on Clovenstone Road.
She said: "My sister found a cigarette in the pram - it had burnt right through the snowsuit.
"It all happened really quickly - my sister picked her up and took her out of the suit, then Sophia started crying because the blister started, and I think that's when it hurt her the most."
The pair rushed Sophia home to soak the blister in water, before taking her to the doctors in Sighthill, and then on to the Royal Hospital for Sick Children.
'My sister found a cigarette in the pram - it had burnt right through the snowsuit.'

Chloe Louise Martin
Medics treated and dressed the blister, which was about the size of a one pence coin, and will assess Sophia again on Friday.
Chloe added: "You hear about things like this but you never think it's going to happen to you."
A post on Facebook warning smokers to be more careful has been shared more than 2000 times and has attracted widespread support.
"We just want to raise some awareness so that smokers can perhaps take a little more care with where they put their cigarette ends so that things like this don't happen," Chloe explained.
"Eilidh can't understand how something like this could happen - she didn't really want to go to school or leave her sister."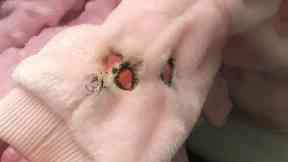 The family have no idea whose cigarette was responsible and are convinced it was all an unfortunate accident.
"There were a few people there and a bus coming towards the bus stop so we think they just flung the fag end and got on the bus," she added.
"I just think it's one of the last things you think about but that's why there's a bin there with an ashtray on top.
"We're not looking to put the blame on anyone. We just want to stress it was an accident and for people to be more careful and vigilant."
Sophia's dad, Derek Harnaman, has also posted their story on Facebook to spread awareness.
He said: "Please people if you are smoking use the ashtray on top of the bins they are everywhere.
"Could've been so much worse than this if Amy and Chloe hadn't been on the ball.
"Now my poor wee angel is bandaged up like she has broken her arm, in pain and all because you were either too lazy or just plain stupid to think to dispose of your fag end properly!"
Download: The STV News app is Scotland's favourite and is available for iPhone from the App store and for Android from Google Play. Download it today and continue to enjoy STV News wherever you are.