Pensioner recognises mum in charity shop camera photos
Tam Watson was stunned to see his mother Sally in the photos dating back to the 1950s.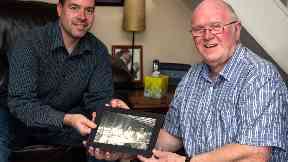 A stunned pensioner has been reunited with pictures of his mum dating back as far as the 1950s - after they were discovered in a camera bought in a charity shop.
Photographer Graeme Webb launched a public appeal in a bid to find the rightful owner of a Kodak Portrait Brownie camera he bought for £25.
And in a heartwarming reunion, Graeme, 40, has returned the pictures to dad-of-five Tam Watson who saw the photographs in the news and recognised his mum Sally.
Graeme, from Hawick, Scottish Borders, who developed the old images, said he is delighted he was able to reunite them with retired printer Tam, 73, from Edinburgh.
He visited Tam at his home on Thursday to hand over the sentimental picture of his mum.
Graeme said: "It was so lovely to meet Tam especially knowing that I was giving him something so special.
"I was delighted to hand over the picture to him rather than him looking at it on a newspaper.
"It was really funny because he's never seen a picture of his mum dressed up like that.
"She looks really young. It was just lovely to put a smile on his face, it made me feel special to be part of it."
Graeme received numerous messages through social media about where the photos may have been taken.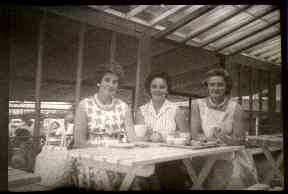 But it was Tam who recognised the woman in the pictures as his mum Sally Watson, born in 1911.
Tam said: "I opened a newspaper on Tuesday morning and saw my mum in the paper.
"At first I didn't want to believe it, I had to pinch myself to make sure what I was seeing was real.
"I was then in contact with my children and the rest of the family and we all confirmed it was actually mum in the paper.
"My mum passed away in 1998. She was an amazing woman who was really tidy.
"But I am still wondering who the other people in the pictures could be.
"What I do recognise is Mrs Cooper, my mum's friend, is in the pictures.
"I think Mrs Cooper's daughter could still be alive.
"Mrs Cooper's husband was friends with my dad that's why we all started to know each other.
"Although I can recognise some of the people, I have no idea where the picture was taken or what the occasion was.
"I bet at that time I was probably either working or still at school."
The camera - now in Graeme's expansive collection - was first produced in the late 1930s and was sold well into the 1970s.
The film he discovered inside was produced between 1956 and 1970.
The camera was handed into the charity shop on September 15, as noted on its price tag, but the details of who gifted it are not known.
Download: The STV News app is Scotland's favourite and is available for iPhone from the App store and for Android from Google Play. Download it today and continue to enjoy STV News wherever you are.