'Future house' aims to change lives of disabled people
Prototype home in Edinburgh features the latest technology for enabled care.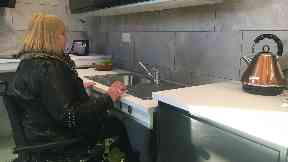 A "house of the future" which aims to transform the day-to-day lives of disabled people has been unveiled in Edinburgh.
The prototype home at Edinburgh's Community Rehabilitation and Support Service will allow staff and customers to test the latest technology for enabled care.
Edinburgh charity Blackwood says it plans to build 160 of the high-tech homes in Glasgow, Dundee and Inverclyde over the next three to four years.
Blackwood resident Mary Guild said: "So many places nowadays that are so-called designed for people with disabilities are very clinical, medical-looking and I think too, like most women, you want a home to look nice, look smart.
"I love the technology, the sliding doors, and the rise and fall units in the kitchen and the rise and fall wash hand basin."
Tablets and voice-activated devices allow the user to control everything in their home from turning on the lights to seeing who is at the front door.
Simon Fitzpatrick, Blackwood's strategic development director, said: "It can be as simple as someone who has maybe quite complex disabilities and is able to use a tablet or voice control to open their blinds so they choose when they see the sunshine, it's as simple as that."
The homes will be built by a private firm and paid for by the charity with the help of a grant subsidy from the Scottish Government.
The charity plans to deliver 160 of these properties for social rent over the next three to four years across Scotland, including Glasgow, Inverclyde and Dundee.
Edinburgh City Council also plans to build 20,000 new homes, with 4500 of those designed to accommodate health and social care needs.
Councillor Ricky Anderson, who chairs the Edinburgh Health and Social Care Partnership and Housing said: "We want to fit these things as standard.
"When people are tenants of housing associations or the council, they may be on housing benefits; they may be entitled to other benefits.
"We want to make sure the house is fit for purpose when they move in so the cost is minimised to them and to the providers."
Download: The STV News app is Scotland's favourite and is available for iPhone from the App store and for Android from Google Play. Download it today and continue to enjoy STV News wherever you are.