Rapist attacked schoolgirls he groomed on social media
Gavin Scoular raped five girls as young as 13 at locations throughout Edinburgh.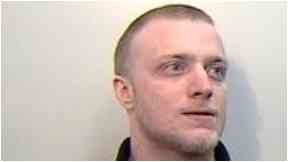 An "extremely dangerous" rapist who attacked young girls after grooming them online has been jailed for 12 years.
Gavin Scoular raped five teenagers after contacting them on social media between 2012 and 2013, with his youngest victim aged just 13.
The 24-year-old attacked the schoolgirls in locations throughout Edinburgh including wasteland behind the Royal Infirmary and Holyrood Park.
Scoular, then aged 19, also attacked one young victim after inviting her to his home.
The crimes came to light when devices belonging to him were seized and examined after he was convicted of online grooming and sexual activity with children in 2014.
Police found he had communicated indecently with dozens more girls, and when they were contacted, five of them, aged between 13-17, told police he had raped them.
Scoular would randomly chat to girls on Facebook and Skype to befriend and then groom them, using a mixture of fake profiles and some using his real details.
He would then expose himself to the young girls online or bribe them to expose themselves to him.
'I would urge parents to ensure their children are only chatting to people they genuinely know online, are keeping accounts private, not putting personal details on social media and parental controls are activated where possible.'

Detective Chief Inspector Martin Maclean.
A police officer involved in the case said the investigation into Scoular's devices revealed some of the worst offending he had ever come across in such a short space of time.
Following a trial at Livingston High Court, Scoular was convicted of 17 charges in addition to 11 which he admitted.
He was jailed the High Court in Edinburgh on Friday and will remain on the sex offenders register for life.
Detective Chief Inspector Martin Maclean, of Edinburgh's Public Protection Unit, said: "Scoular is an extremely dangerous individual, taking every opportunity he could to go online and exploit young girls - it is fair to say he was compelled to do this for his own sexual gratification.
"Scoular would initiate conversation with girls under the age of 16, building up to him exposing himself to them online or bribing them to expose themselves to him.
"In the cases of the five girls he raped, he would communicate with them, build up a relationship and then arrange to meet them."