Universal Credit: Is new benefit paying off for Scots?
We visited East Lothian where residents were treated as guinea pigs for the new system.
It's been three years this month since Universal Credit was fully rolled out in East Lothian.
Residents who were unemployed or on low incomes were the guinea pigs for the new system, which was designed to be a simpler all-in-one payment to replace six 'legacy' benefits.
However, STV News has spoken to some claimants in Dunbar who say it has been difficult to adjust to - and the way it is calculated, the online application process and delays have made them worse off.
Claimant: 'Benefit disappears before you get it'
Mark Brown, who spent time in prison, was claiming Employment Support Allowance before he was moved on to Universal Credit.
He works part-time at The Ridge's Backlands conservation project near Dunbar's High Street - but says he'd be better off not working.
"I got put on Universal Credit and the money I was getting through my Employment Support Allowance I was no longer entitled to, because I was doing two days of permitted work," he said.
"I'm getting nothing now. Due to my mental health, I've been doing this gradually over the last three years."
Former shop worker Paul Gordon believes the design of the new online benefits system leaves a lot to be desired.
He said: "After being made unemployed, you apply for Universal Credit, and they make you wait five weeks for your first payment, so you're more or less forced to take the advance that they give you, and then they take it back off you at £66 a month.
"So the benefit is disappearing before you even get it."
Mr Gordon said that community projects in Dunbar - including the food bank and services run by social enterprise The Ridge - have kept him and many others afloat.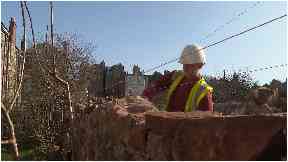 Doctor: 'Letters are ignored'
Local doctor John Hardman told STV News there are concerns some benefit claimants are being assessed as fit for work, despite conflicting medical advice.
Dr Hardman said: "It's not unusual for myself or one of my colleagues to write a letter saying that a patient is, or never will be, fit for any kind of meaningful work, or even vocational or voluntary work, and yet often that is ignored."
And as mirrored in other locations around the country, Dunbar's food bank has been inundated with requests.
"It's an ongoing catastrophe and it's very punitive for a lot of families," volunteer Margaret Croft told STV News.
"[The food] comes at a cost, and it comes at a psychological and emotional cost to the people who apply."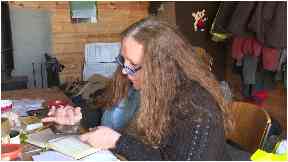 Job centre: 'Life isn't black and white'
The nearest Job Centre is in Musselburgh - two bus rides away - but staff hold weekly drop-in sessions in Dunbar to try to solve Universal Credit issues.
Gill Last, a support manager at social enterprise The Ridge, said: "Life isn't black or white - their lives aren't black or white.
"Just don't make it so difficult for people who need a bit of help.
"Everyone I help wants to get back into work or wants to give something back, or they come and volunteer. I fight for them but I'm tired of fighting."
UK Government: 'It's a force for good'
Work and pensions secretary Amber Rudd has acknowledged delays to payments has led to a growth in food bank use - and just last week admitted that it was difficult to live on the core payment.
A spokeswoman for the Department for Work and Pensions said: "Universal Credit is a force for good, helping people into work faster, but we will continue to make improvements where needed.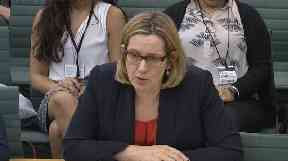 "Already we have introduced 100% advance payments, budgeting support, direct rent payments to landlords and an extra two weeks' housing benefit payment for people moving from Housing Benefit to Universal Credit.
"We are delivering flexibilities in Universal Credit payments on behalf of the Scottish Government and Scotland has the power to top-up existing benefits, pay discretionary payments and create entirely new benefits altogether."
What is Universal Credit?
A monthly or twice-monthly means-tested benefit for people of working age who are out of work or on a low income.
It replaces six existing 'legacy' benefits: Income Support, Jobseeker's Allowance, Employment and Support Allowance, Housing Benefit, Child Tax Credit and Working Tax Credit.
It was designed to be simpler than the old benefits and tax credit system.
Entitlement is worked out by comparing basic financial needs that the government says you need to live on with resources.
The full service is being introduced gradually across the UK - and East Lothian was one of the pilot areas for the UK Government's flagship welfare reform policy.
Claimants can be sanctioned if they don't comply or attend meetings with their 'coach' or pick up the phone for telephone interviews. They need to prove they've been looking for work by regularly filling out an online journal.
Payments are made up of a standard allowance, and there are additional amounts which apply for people with children, disabilities which may affect their eligibility to work, or for those who need help paying their rent.
People can challenge the decisions through an independent tribunal process. 
Download: The STV News app is Scotland's favourite and is available for iPhone from the App store and for Android from Google Play. Download it today and continue to enjoy STV News wherever you are.