Almost 30 people arrested after climate change protest
Supporters of Extinction Rebellion Scotland brought Edinburgh city centre to a standstill.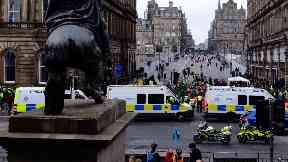 Almost 30 people have been arrested after a climate change protest in Edinburgh.
Supporters of Extinction Rebellion Scotland blocked the city's North Bridge, bringing areas to a standstill during the campaign to raise awareness about climate change.
Around 150 protesters turned out to the demonstration on Tuesday, resulting in 29 of them being arrested in connection with a breach of the peace.
The demonstration was part of a week of action planned around the world to raise awareness of climate change and encourage governments to act now.
A Police Scotland spokesman said: "The protest by the Extinction Rebellion Group at the North Bridge area of Edinburgh came to an end at around 8.30pm this evening.
"29 people were arrested for breach of the peace. 17 of these were men and 12 were women."