Slates thrown at riot police during rooftop stand-off
Officers were called to the disturbance in South Queensferry on Tuesday night.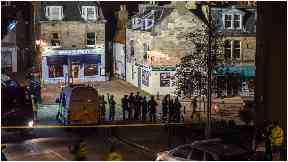 A man has been arrested after slates were thrown at police officers from a rooftop in South Queensferry.
Emergency services, including riot police and the fire service, were called to a disturbance on Hillwood Place at around 10pm on Tuesday night.
Videos and pictures published on social media appeared to show objects being thrown towards a police van from a roof near Queen's Spice restaurant on High Street.
Police arrested and charged a 29-year-old man in connection with the incident and confirmed that he will appear at court at a later date.
A Police Scotland spokesperson said: "A man has been arrested and charged following reports of an individual causing a disturbance and throwing items from a roof in Hillwood Place, South Queensferry.
Photographer Gavin Craigie captured the action.
Posting on his Twitter account he said: "It's all happening in South Queensferry tonight.
"Riot police, fire engines and someone lobbing stuff from the roof."