Opinion: What would be a fitting legacy of Chris Hoy's Olympic success?
Chris Oliver, Chair of the Cyclists' Touring Club Scotland, argues that an immediate and significant change in transport policy is needed if there is to be a lasting legacy from Chris Hoy's Olympic success.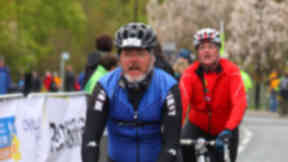 I do not enjoy my job as a consultant trauma orthopaedic surgeon when I have to do operations I do not think are needed on injured cyclists.
My surgical teams use some of the most advanced technology to successfully repair broken bones and help soft tissues heal after cycling crashes. However, I would rather not have to perform these sometimes life-saving and life-changing operations at all.
Fortunately fatal cycling accidents are rare if you consider that mile for mile you are less likely to be killed by cycling than walking. Tennis and using an indoor rowing machine are actually much more dangerous than cycling.
There is a constant trickle of often preventable more minor cycling crashes from falls and collisions, many due to poor road surfaces.
In truth I would rather leave my amazing surgical instruments and high technology screws, nails and fixators in the theate storeroom. We are on the crest of an Olympic wave with cycling and there is a terrific opportunity to have a major impact in cycle accident prevention and improvement in cycling and walking infrastructure.
I would much rather spend my time working on accident prevention, road safety and encouraging active travel by walking and cycling. Active travel is travel and transport by physically active, human-powered modes as opposed to motorised ones.
Walking and cycling should be the most attractive and highest priority modes for short trips; however, Scotland's towns and cities remain car dominated. It is time for this to change.
The current economic situation, increasing fuel prices, the need to reduce carbon emissions and Scotland's shocking health record all point to the need for a radical rethink in our approach to active travel. Current central and local government policy advocates investment in active travel (walking and cycling) over the private car, due to the multiple benefits it brings to society.
The Cycling Action Plan for Scotland (CAPS) has a vision that "by 2020, 10% of all journeys taken in Scotland will be by bike." Currently, only 1% of all trips in Scotland are made by bike and 23% are made on foot. The target does not seem achievable. The car is by far the most dominant mode of transport (64% of all trips), despite the fact that majority of people in Scotland either do not drive or have access to a car, and half of all journeys undertaken in Scotland are less than 2 miles long.
Since Sir Chris Hoy won his sixth Gold medal there has been a definite change of behaviour, cars seem to give cyclists more room and courtesy, the Cyclists' Touring Club has seen an increase in numbers of cyclists coming out on our member rides.
The longer term effects are still to be seen and may take many years. It took Bradley Wiggins over twenty years from his time of inspiration to him winning the Tour de France.
Scotland's current transport funding decisions (which largely prioritise major schemes and subsidies) and delivery mechanisms are failing many Scottish people, by not delivering the wider benefits they could be.
It would be a fitting legacy to the Olympics and Sir Chris Hoy to permanently change track and make a Scottish national descion to have substantial increases in active travel in an affordable and politically acceptable way.
Active travel needs to be given greater priority through the reallocation of current investment decisions, greater commitment to existing policies and, above all, leadership to make it happen.
There is an abundance of robust and compelling evidence demonstrating that investment in active travel can help remedy many of the important social, economic and political challenges facing Scottish society. Current central and local government policy advocates investment in active travel (walking and cycling) over the private car, due to the multiple benefits it brings to society.
Active travel has an overwhelmingly strong policy impetus, hitting transport, health, social inclusion, local economic development and regeneration objectives. Investment in active travel is also a key deliverable identified to achieve the Scottish Government's extremely challenging targets to reduce carbon emissions by 42% by 2020 and by at least 80% by 2050.
Whilst central government support and leadership is critical, evidence shows that successful delivery of active travel is largely a result of strong local action and delivery mechanisms. There are many European cities that we can learn from – places with strong similarities to Scottish cities, that have achieved exceptional levels of walking and cycling, and where these modes of travel have not always been the norm.
A focus on active travel has helped these cities to become wealthier, fairer, greener, healthier, happier and more civilised places. In essence, they are perfect examples of what the Scottish Government wants to achieve – a Scotland that is a more attractive place to live. Moreover, there are many small-scale examples from across Scotland of initiatives that demonstrate that significant increases in active travel are possible.
What would be a fitting legacy of Chris Hoy's Olympic Success look like?
10% of all journeys by bike and 25% of all journeys by walking by 2020.
The completion of the National Cycle Network.
Delivery of on-road cycle training to all P6 pupils.
The implementation of the active travel elements of Core Path Plans including the signing, maintenance and development of off road routes.
Street audits leading to priority for pedestrians on all routes to key destinations in towns and cities.
The re-allocation of road space to create traffic free cycle lanes on all arterial routes in all towns and cities.
Widespread adoption of 20mph zones in most urban areas.
How would we get make a fitting Active Travel legacy of Chris Hoy's Olympic success?
We need championing – by politicians, local councillors, heads of transport, public health directors and others – to advocate active travel.
We need to achieve more creative and appropriate use of existing transport budgets to allocate more to active travel schemes on the basis that that they clearly deliver better value for money than most traditional transport schemes
We need to invest in people and places, not modes of transport.
We need to develop better partnership working to help align policy objectives and to achieve common outcomes and benefits.
We need integrated funding approaches (e.g. health • and transport).
We need more holistic and effective planning and appraisal systems that truly recognise the benefits walking and cycling schemes bring.
The Poet Laureate Carol Ann Duffy has even written about getting more cycle lanes: "Enough of the soundbite abstract nouns, austerity, policy, legacy, of tightening metaphorical belts; we got on our real bikes, for we are Bradley Wiggins, side-burned, Mod, god; we are Sir Chris Hoy, Laura Trott, Victoria Pendleton, Kenny, Hindes, Clancy, Burke, Kennaugh and Geraint Thomas, Olympian names. We want more cycle lanes!".
As Chairman of the Cyclists Touring Club our Scottish members strongly believe that there must be an immediate significant change in the priority given to both cycling (and Walking) in Scotland.
Expert bodies such as Cyclists Touring Club for Scotland – The National Cycling Charity, Sustrans, Transform Scotland, Cycling Scotland, Pedal on Parliament, Paths for All, Living Streets and Scottish Cycling are all in an expert and ready position to advise government on how to proceed to make a cost effective shift.
All these organisations vision is that for walking or cycling to be the natural choice for short journeys, creating a healthier, socially inclusive, economically vibrant, environmentally friendly Scotland.
This would be the fitting legacy to Sir Chris Hoy's golden Olympic legacy.
Chris Oliver is a consultant surgeon working in Edinburgh and has many years of experience treating cyclists after serious road traffic, cycle sport and commuting cycle injuries. Chris Oliver is also Chair of Cyclists' Touring Club Scotland – The National Cycling Charity.
He has cycled from Lands' End to John O'Groats.