Former Fife Labour MEP Alex Falconer who was friends with Gordon Brown dies
Alex Falconer started his career as a shop steward in Rosyth.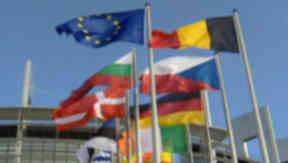 A former Labour MEP who was involved in establishing damage payments for pleural plaque victims has died.
Alex Falconer started his career as a shop steward in Rosyth before standing for election for the Labour party.
He served as a Member of the European Parliament for Mid Scotland and Fife from 1984 to 1999, when the constituency was abolished.
He was involved in the campaign for damages to be paid to people who had contracted pleural plaque because of exposure to asbestos.
Mr Falconer shared an office with Gordon Brown for many years and the former Prime Minister paid tribute to his close friend.
He said: "Alex Falconer was my friend and was one of the most dedicated and committed trade unionists and campaigning politicians that I have ever had the privilege to know and work with.
"Throughout his life he never stopped caring about people and standing up for fairness and against injustice wherever he saw it. Today I am thinking of his wife Margaret and his family."
Johann Lamont, Scottish Labour Leader, said: "I knew Alex Falconer for many years as a powerful champion for working people and a great advocate for tackling inequality.
"He was a big influence in shaping the party's thinking, as an activist and later as a member of the European Parliament, and was a strong campaigner for a Scottish Parliament.
"He will be sadly missed and our thoughts are with his family."
Mr Falconer died at the Victoria Hospital in Kirkcaldy on Sunday after a battle with cancer.
Funeral arrangements are yet to be confirmed.