Da Vinci Code fans offered virtual tour of Rosslyn Chapel
State-of-the-art project creates exact 3D images of the church made famous by the Dan Brown book.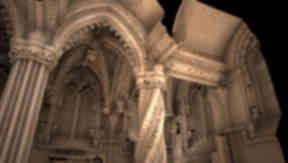 Groundbreaking new pictures will offer Da Vinci Code enthusiasts across the world the chance to take a virtual walk through Rosslyn Chapel.
The ancient church gained notoriety as the setting for Dan Brown's bestselling novel The Da Vinci Code and is rumoured to be home to the holy grail.
Now, digital designers from Glasgow School of Art have teamed up with Historic Scotland to create a full 3D plan of the infamous building.
The project used state-of-the-art laser technology to create a millimetre-perfect plan of the chapel's architecture. The work would traditionally have taken a year to complete, but was carried out in three days as a result of new technologies.
The plans gathered will now be used to assist in a £13 million conservation and improvement programme which is already underway at the chapel.
Work is also underway to create a permanent home for the images on the internet, making virtual tours a possibility across the globe.
Colin Glynn Percy, Director of Rosslyn Chapel, said: "This has been a fascinating exercise for us which has real practical benefits in being able to record minute details for posterity as well as assist the conservation of Rosslyn Chapel for future generations to enjoy."
The work has been carried out as part of a project which will document Scotland's five World Heritage sites, along with five international sites including Mount Rushmore.
New Lanark, the Antonine Wall, St Kilda and the Old and New Towns of Edinburgh will also be surveyed in a similar way.
Culture Minister Fiona Hyslop said: "This leading edge technology will help digitally preserve Scotland's heritage for generations to come.
 
"The amount of detail in the digital images of Rosslyn Chapel is truly astonishing. This technology has already been used to give us exceptionally accurate 3D visual documentation and is currently being used at Stirling Castle.
"The technology provides a lasting, digital record of the country's most important buildings. It also offers a new method for researching and conserving Scotland's built environment."
Professor Seona Reid, Director of the Glasgow School of Art said: "The work The Glasgow School of Art's Digital Design Studio and Historic Scotland are doing is truly world-leading and clearly shows how developing new technologies can help us better understand and appreciate great works of the past.
"This is just the beginning of a partnership that is set to leave a digital legacy for us all to enjoy."