Teen pregnancy initiative unveiled in Edinburgh
The £1.6 million scheme to help first time parents has been based on a successful community nursing drive in Harlem, New York.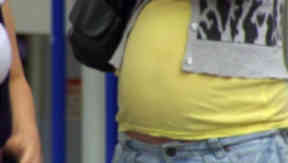 A £1.6 million initiative to help first time parents and teenage single mothers was officially launched in Edinburgh on Tuesday.
The test project, based on a parental support scheme running in Harlem, New York, will provide home visits from nurses to young mothers-to-be throughout their pregnancy and during the first two years of their baby's life.
The family nurse partnership will also offer advice on issues ranging from parenting skills and child development to employment and education.
The test scheme will run from Edinburgh's Craigmillar area by NHS Lothian, which experiences a high rate of teenage pregnancy. However, if it is deemed a success it could be rolled out across the country.
Health Secretary Nicola Sturgeon said today: "In time, I want to see the kind of support that the family nurse partnership provides across the whole of Scotland."
Ms Sturgeon announced the creation of the scheme following a visit to a similar programme in the USA. She said: "This isn't an untested programme - the evidence from programmes already up and running in the US shows that it is improving prenatal health, increasing employment for young mothers, resulting in fewer unintended pregnancies and helping to reduce child neglect."
Ms Sturgeon spoke as she met parents-to-be and nurses at the project's base in Craigmillar. She added: "Having met some of the families and nurses involved today has left me in no doubt that we will see the same kinds of benefits here in Scotland too."
A team of six family nurses will provide weekly or fortnightly visits to young mums in a bid to increase one-to-one contact and provide increased support in the difficult initial stages of parenthood.
Melanie Hornett, nurse director at NHS Lothian, said: "We know that early emotional care is crucial to the development of a baby and that parenting skills are key to this.
"This programme helps mums and dads to focus on and respond to the needs of their baby as well as thinking about themselves."
Councillor Marilyne MacLaren, convener for education, children and families at the City of Edinburgh Council, said: "In order to break the cycle of teenage pregnancies and creation of children at risk, we need this kind of intensive targeted work because leaving the child in an unsupported family until the child goes to school leaves it too late."
Lesley Backhouse, chair of the UK-wide Breastfeeding Network, commented: "We know from a similar scheme's success in New York that a close relationship between a nurse and mother develops ongoing support in best practice for parenting skills - including increased breastfeeding.
"Because the family nurses will have around 25 patients each, they'll be able to spend a couple of hours at a time with a young mother so that the partnership will be based on familiarity and trust. The partnerships will make young mothers much more confident in their new role - to the benefit of their child."