Woman admits stilleto attack which left bouncer blind in one eye
Sarah Marsden stamped on Graham Roach's eye socket after staff tried to remove her from Edinburgh's Shanghai nightclub for being drunk.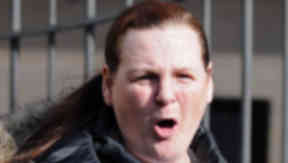 A drunken woman left a bouncer blind in one eye after stamping on his face with her stilleto heel after being asked to leave an Edinburgh nightclub.
Head door steward Graham Roach stepped in to help a colleague as he challenged Sarah Marsden over her drunken behaviour at Shanghai on the city's George Street last July. However, the 28-year-old bouncer was knocked to the ground during the disturbance and as he lay there, Marsden stamped down with her shoe, splitting open his eye socket.
Mr Roach was rushed to Edinburgh Royal Infirmary, where he endured a four hour operation, but the damage was too severe and medics were unable to save his eye.
Edinburgh Sheriff Court heard that when 37-year-old Marsden was taken to St Leonard's Police Station and charged with assault she said: "I'm sorry".
Prosecutor Pauline Shade told the court that, at about 1.30am on July 25 2009, Mr Roach heard noises coming from the bottom of the steps to Shanghai. He saw his colleague, Andrew Pringle, asking Marsden and 49-year-old Anthony Walker to leave because of their drunken behaviour.
Mrs Shade said Walker threatened to strike Mr Pringle with a bottle however the bouncer managed to get the bottle after a struggle. Mr Roach and another colleague went to help and managed to get the pair onto George Street.
Mr Roach then thought the situation was under control and sent his colleague back downstairs to the club.
However, Mrs Shade said: "Mr Roach made to walk away from the accused however Marsden spat directly into his face. Mr Roach then turned around to take hold of her arm but he collided with the accused, Walker, and both Mr Roach and Walker fell to the ground."
Marsden then launched the attack on Mr Roach.
Mrs Shade added: "These events were witnessed by various other door stewards. By now Mr Roach was bleeding profusely and in a great deal of pain."
She said an ambulance was called and added: "During the surgery the surgeons had to reattach part of his eye lid which had been torn open during the assault.
"Unfortunately the damage was too severe and surgeons were unable to restore the sight in his eye and he is permanently blind in that eye.
"Mr Roach required to remain in hospital for four days after the surgery during which time his eye had to be constantly cleaned to ensure no infection occurred.
"At some point Mr Roach will undergo a further surgery to his eye. It will involve placing an implant into his socket to replace the damaged eye ball.
"It will not restore his sight but it is hoped it will give him a better cosmetic appearance."
Today Marsden, of 87 Cables Wynd House, Edinburgh, admitted carrying out the assault on Mr Roach at Edinburgh's George Street on July 25, last year. Walker, of the same address, pled guilty to breaching the peace.
Sheriff Neil MacKinnon deferred sentence for background reports until next month when pleas in mitigation will also be heard.