Looking back to 1986: The painting of Leith's history as a tenement mural
Artist Tim Chalk reflects back to 1986 when he and Paul Grime created a local landmark.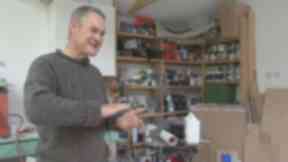 It's more than 25 years since the story of Leith was painted larger than life itself on the gable end of a tenement on North Junction Street.
It was a time when the once prosperous area of Leith was at its lowest ebb. With shipbuilding and industry having set sail from the port poverty, crime and unemployment became major issues within the community.
While wealth has come and gone one thing that has remained steadfast and sure through generations is the spirit and identity of Leithers. It was this that was to be the inspiration for one of the most iconic features in Leith of modern times.
With the help of the Scottish Development Agency, who tried to stimulate economic regeneration across the country, three artists were able to secure funding for the creation of a three-story high mural capturing the pivotal moments in Leith's living memory.
Tim Chalk, Paul Grime and David Wilkinson were artists who set up Street Artworks and worked within the community to create public art. The large mural which can still be seen, faded from its original strength of colour, was the culmination of various other small scale artworks in Leith which were generated as part of an economic regeneration programme.
A couple of months prior to the 26th anniversary of the mural, Tim Chalk looked back to the mid-1980s to explain the importance of that era to the people of Leith. He said: ""It was very much the fact that Leith was going through this huge change. It had been a thriving prosperous place right through the Nineteenth Century and into the Twenties and by the time this mural was painted in 1986 it was in a really depressed state.
"Almost all the traditional industries were going, it was the same story as all over [the country] but there was that sense that because of this attempt to regenerate and pour in new money the character of the place was right on the cusp of changing.
"So there was a really strong feeling that people wanted to hang on to the sense of what being a Leither was all about so I suppose that's why the reminiscences were important and not to just go off myself and find out some facts, get some reference images and put together something. It was really important that it pulled together this collaboration of memories."
Tim described the people of 1980s Leith as having a "bruised pride" as a result of the "run down" condition of the area and the questions that it presented for the future. He said: "There was the inevitable anxiety that the whole process was going to be a gentrification and all the original Leithers were going to be edged out and obviously there has been an element of that but I think people were looking at similar things that were happing in other parts of the country and there were a lot of understandable anxieties."
He explained the significance of murals at that time, he said: "It was at a time when there was a strong mural movement in the country and there were a lot of us who saw murals as serving the same purpose. We wanted to produce works of art that were in public places that gave a voice to people and told their story rather than rarefied images in galleries which were purely personal views.
"The idea was to get as many voices as possible from Leith speaking through the mural."
Tim had his sights set on the gable end of the North Junction Street tenement which backed onto Ferry Road for years as the location of a mural but knew that "any old image" would not be good enough and concluded, "if there was going to be something there it should be something that really meant something to people."
In order to achieve their goal the artists teamed up with a group called the Leith Local History Project. Tim explained: "They were building up an archive of old photographs of Leith and they already had all sorts of links in the community with people who were helping them with their historical research and working a lot through reminiscence and that ticked all the boxes for us.
"They got together a group of about seven or eight people who ranged in age from about 30 to 60 so that gave us a good spread of different views. And there were quite different views.
"There were quite lively discussions we were talking about what the keys things to get across about Leith should be and what made Leith, Leith for all of them. The age range meant there was a varied view and the younger ones were really dead set against this slightly backward looking nostalgia to the past and the older ones were really resistant to what had happened to Leith in the last sort of 20 years."
The biggest challenge for Tim and Paul was to capture this memories as a visual image which was realistic and accurate to what the Leithers remembered. Tim said: "We started with all sorts of disjointed memories and things that people thought should go into the mural or scenes that people remembered or the sorts if iconic memories that summed up different aspects of lives and we ended up with this huge scrapbook of subjects.
"Then we tried to work out what the general themes were going to be and then from that we decided what scene would represent what.
"There was one particular scene about a docker coming back at the end of his day's work and one of the really vivid memories that some of the older people had was of their fathers coming in with their backs red raw and bending over the table while their mothers would rub liniment in his back, so that we took as a central image of domestic life.
"Although the effect is like a kind of scrapbook of memories we tried to give it a kind of coherence so you could work your way through it and different areas of the mural deal with different aspects of life."
Now, the lines and colours have faded but the stories of ship building, heading off to fight in WWI, the Jarrow marches of 1936, domestic life and childhood pastimes still remain visible and maintain a visible link to a very different past.