Edinburgh musicians rock the STV Appeal 2012
The VooDoo Rooms played host to the first event of its kind for children living in poverty in Scotland.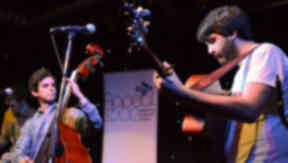 For the first time Edinburgh musicians donated their talents in aid of the STV Appeal 2012.
In the second year of the STV Appeal local acts from Scotland's capital took to the stage at The VooDoo Rooms with city favourites, Matt Norris and the Moon headlining the evening.
@mattnthemoon in sound check for the @stvappeal are you coming? Buy ticket for £10 @voodoorooms starts at 7.30pmtwitpic.com/ar3cd9

— STV Edinburgh (@STVEdinburgh) September 4, 2012
The night's entertainment was kicked off by vocal harmony group Three Little Birds. Patricia Scott, Nicola Marchall and Moira McKay met at Jewel and Esk College more than 20 years ago but Facebook helped reunite the trio last year to form the group.
Its on! Three Little Birds take to the stage for the @stvappeal @voodooroomstwitpic.com/ar4hpb

— STV Edinburgh (@STVEdinburgh) September 4, 2012
Patricia said: "Years ago we said we'd do something together and that always stayed in my memories. We managed to stay in touch through the wonders of social media and here we are."
She added: "The STV Appeal 2012 is a great cause and is something we hope continues on for many years to come."
Their set on Tuesday included the award winning song, Where Only Fools Go written by Moira and won The Gathering 2012 burnsong competition.
Following on from Three Little Birds was soloist Al Shields whose music is inspired by old-time country, folk and blues.
We're on to the 2nd act of the night - Al Shields is on stage for the @stvappeal sing the blues!twitpic.com/ar4r0i

— Clare Carswell (@ClareCarswell) September 4, 2012
Hot on his heels was dream-pop ensemble Collar Up and one member of this line-up, Nora Noonan by day is a librarian for STV and by night a drummer extraordinaire.
Frontman of the group, Stephen McLaren heaped praise on his bandmate. He said: "She's an incredible drummer. In 2010 we needed a new drummer and she was recommended through a friend, she was given the CD and said she would like to do the gig but had no time to practice.
"She turned up on the night and it was the first time we had met. It was pretty amazing so I said if she wanted to join the band permanently she was in."
He added: "We were absolutely delighted to be asked to perform for the STV Appeal 2012 it is just the kind of gig that we want to be playing.
"I think it's important to help under privileged kids so I'm pleased we can be involved in supporting a charity like this."
Highlights of the gig will be broadcast during the live Appeal programme on STV from 7.30pm on Friday, September 8.
A total of £500 was raised from ticket sales, CD sales and donations with all money raised going to the STV Appeal 2012 and will be distributed across the country to various projects.
More than £1.2m was collected last year and it is hoped a bigger total will be reached in 2012. The Scottish Government will match fund the total.