Council TV: Edinburgh politicians webcasting from city chamber
Full council meetings will be beamed over the internet for the next year.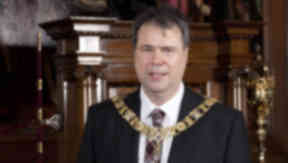 There will be no hiding from the public's eye for Edinburgh councillors as video cameras are introduced to the City Chambers today.
Officials say they hope introduction of live streaming of full council meetings will help "engage with Edinburgh residents" by making the democratic process more transparent.
The move could also help constituents hold elected representatives to account and ensure they are doing their job rather than completing a sudoku puzzle, as Cllr Eric Barry was in March last year.
Full council meetings will be filmed, streamed live and archived for one year at a cost of £30,000, making use of services and equipment from the company Public-i - who currently facilitate a similar service for the Moray as well as the Highlands and Islands councils.
At the end of the year, council staff will gauge how successful the trial has been by calculating how many people watched the streams, and what they watched and for how long.
The Lord Provost, Donald Wilson said: "I see it as an extension of democracy and citizen participation.
"There are a variety of different means of doing that - this is simply one. It's something we can do fairly easily and very cheaply and therefore it gives people that extra option."
He added: "I think it will change the behaviour and actions of the councillors and indeed we have some evidence of that because although we weren't transmitting live, it was recorded at the last council meeting and contributions were very short.
"I think it will focus minds and people will pay particular attention to following the rules of the full council and also making sure they are very clear and concise in what they are saying."
You can hear what he said in full to STV Edinburgh's Clare Carswell in this audio interview.
However, there were mixed views from the people of Edinburgh, many of whom congratulated the council for making themselves more accountable but admitted they would be unlikely to watch.
Heather Edie, 34, thought that the concept was a waste of money and could be better spent, while Gavin Flemming, 49, thought that local government was not worthy of the coverage.
The motion to introduce cameras at the City Chambers was tabled by then councillor Alison Johnston, who is now an MSP. She stressed why she believes this is a positive move for the council.
She said: "I think it's vitally important that local people can see how effectively their councillor is representing their views in the council chamber.
"At the moment voters have no way of knowing if their councillor spoke for or against a particular proposal, or indeed, if they spoke at all. All that's recorded at present are the decisions, with no details of the debate that preceded that decision."
"I fully support transparent and open government at local and national level. If it's important at national level it's important at local level too. After all, councils make a range of very important decisions that impact on everyday life.
"They can close schools, cut budgets and decide who will provide personal care.
"Greens are determined to end the 'we know best culture' and want to open up the council. Webcasting is a modest step in that direction."
Mr Navraj Singh, Ghaleigh lecturer in Public Law at the University of Edinburgh offered words of caution to the local authority ahead of the first webcast.
He said: "A key element to democracy is for elected representatives to be held accountable by the members of the public so having methods to do that is a positive thing.
"The question about these webcasts is, will they capture the right things?
"A lot of what gets done in in committees. Most of the most important work tends to get done in committee meetings so if they only show the plenary meetings I would wonder if it was worth it.
"The second issue is how to organise the material and archive it in a useful format? It has to be accessible and meaningful to members of the public. They would also have to integrate the paperwork with the meeting and to put that up at the same time is essential.
"Otherwise it would be a bit of babble, it has to be put in context with the agenda and previous minutes or it runs the risk of becoming window dressing."
He also stressed that "democracy is expensive", and if the council want to introduce webcasting successfully they will have to invest the finances and human resources to constantly update the online information.
This is the latest sign of the City of Edinburgh Council embracing technology.
It announced in May that councillors will be given iPads at a cost of £18,000 in a bid to save money and paper.
Two years ago there was some resistance to the council's use of technology when Cllr Joanna Mowat spoke out against the use of Twitter. It's an argument that she later reneged on as she sent her first tweet from @jomowat three months later.
If you would like to follow or join the debate on Twitter then use #edinwebcast.
More information about the council's webcasting can be found online and the live streams and archive footage will be held at www.edinburgh.public-i.tv/core/ online.