5000 march through the streets of Edinburgh in support of independence
Thousands of demonstrators take to capital's streets in what organisers say is a cross-party event.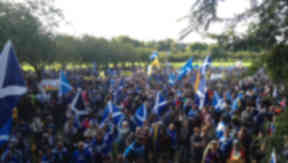 A pro-independence march and rally has attracted thousands of people to Edinburgh in one of the biggest events of its kind the city has seen.
Princes Street Gardens was transformed into a sea of saltire and lion rampant flags as people from all over the country gathered in support of a yes vote in the 2014 referendum.
Politicians, civil action groups and entertainers took part in the event held under the banner Independence for Scotland.
SNP leader Alex Salmond told the crowd Scots had the right to choose a national health service, no tuition fees and minimum alcohol pricing.
Referring to the UK Government, Mr Salmond said to cheers and applause: "Why should they choose austerity when we want to choose to invest in the future?
"Why should they choose to govern social security in such a way that people with disability and blindness have to come to the Scottish Parliament complaining about being reduced to penury?
"We choose a different way to protect the people of Scotland and we want the right to choose whether our people should be sent into illegal wars and we want the right to choose to remove weapons of mass destruction from the shores of Scotland."

View Independence rally route in a larger map
Many people attending the rally said they would not have supported independence a year ago but had changed their minds.
Lawyer Aamer Anwar, one of the speakers at the rally, said: "I've spent most of my life believing in the union and I no longer do. I don't want to be dictated to by Westminster. I want a future for my children - a future which isn't one predicated by austerity for decades and decades. I think the people of Scotland can govern themselves."
The event is the first of three rallies, with another planned for this time next year and the biggest set for September 2014.
Mr Salmond added: "We believe that just as the skies around Scotland were lit up by meteors last night, this campaign will light up Scotland over the next two years. I've spoken to many crowds in these gardens over the last few years but never to a rally of a scale and breadth and width of this great rally today."
Lothian and Borders said an estimated 5,000 attended the march and rally. Two people were arrested for minor disorder offences, the force said.
Scotland's only Independent MSP Margo MacDonald told the rally: "If a third of Scots believe in independence and want independence now, every one of us has got two years to persuade another Scot, and then we're home and dry. That's not fanciful, that's just practical."
SNP deputy leader Nicola Sturgeon watched the rally from the wings. She said: "The atmosphere is tremendous - positive and uplifting. It's all about Scotland's potential."
Mr Salmond told the crowd the Yes Campaign launched in May had so far secured 100,000 declarations of support for independence. The campaign aims to reach one million by the referendum.
However, the turnout did not impress the Scottish Conservatives.
Constitutional spokesman David McLetchie said: "Last week, one and a half million people in Catalonia demonstrated for independence. Today, in stark contrast, Alex Salmond's march for separation attracted less people than a struggling third division football team. That says it all about the real demand for separation amongst the Scottish electorate."
Scottish Labour MSP Patricia Ferguson, who helped organise the STUC march for a Scottish Parliament in the 1990s, said: "More than three times this number turned out to march for devolution in the Nineties and despite the huge drive by the SNP to get people to attend, this has been both a damp squib and a personal embarrassment for Alex Salmond.
"Scotland did not march with Alex Salmond, but they did turn out for Team GB, Andy Murray and the Olympic torch. Scots booed the First Minister in Glasgow and today Scotland has again snubbed his ambition to break up Britain. Scots want our First Minister to campaign for jobs, growth and economic recovery. We don't want him to focus on his constitutional obsession. It is time Alex Salmond focused on the real priorities for Scotland."
MORE ON THE INDEPENDENCE RALLY:
On the march and on Twitter: Follow the independence rally on social media