Prisoner of war Eric Lomax who wrote about 'death railway' dies
Eric Lomax, who wrote about working on the 'death railway' in Thailand, has died aged 93.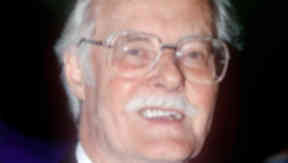 **Prisoner of war turned author Eric Lomax, who penned his memoirs about his time working on the "death railway in Thailand during the Second World War, has died aged 93.
Mr Lomax, who was captured at the fall of Singapore in 1942, was among thousands of servicemen who were used as slave labour by the Japanese on the railway.
He later came to terms with his treatment by meeting his interrogator during torture sessions many years later and writing about his experiences in his book The Railway Man.
His book is currently being turned into a film starring Colin Firth and Nicole Kidman.
Mr Lomax, who was originally from Edinburgh, died in the early hours of Monday in Berwick-upon-Tweed.
Rachel Cugnoni, of his publisher Vintage Books, said: "The Railway Man was one of the landmark books of the 1990s. It tells Eric's incredible and moving story with grace, modesty and exceptional humility. All characteristics Eric had as a man.
"It is a book that stands as a testament to the great capacity of the human spirit for forgiveness and we are honoured to have published it."
His book has been adapted this year for a forthcoming movie in which Oscar-winning star Firth plays him in later life, while Jeremy Irvine plays him in his younger days.
Mr Lomax was a signals officer who was captured with many other Allies in Singapore and held at the island's Changi jail and eventually being taken to the Thai town of Kanchanaburi where he worked on the railway link to Burma.
The horrific conditions of the prisoners as they built the line, with a terrible loss of life, famously formed the basis of David Lean's 1957 film The Bridge On The River Kwai.