Laughing Yoga nun in Muirhouse as people adopt a happy habit
Sister Ann Buckeridge brings people together for fitness, fun and community spirit in north of the city.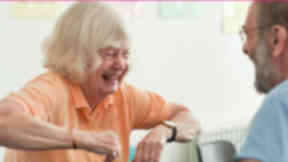 To anyone just walking in, the top floor room in the North Edinburgh Arts Centre would look like a can of laughing gas just exploded rendering the people inside absolutely helpless.
Squeals, snorts and full out bellows of laughter issue forth from Muirhouse locals as they wander around chuckling at themselves and each other.
It's as though someone just told the best joke in the world but no one can quite remember the punchline.
In one corner, Sister Ann Buckeridge is chortling away while trying to do an impression of Her Majesty the Queen.
"How does one do?" she pronounces, waving one hand majestically before collapsing into giggles.
"And back to the centre," calls out instructor Jo Bluett. "And altogether now - very good, very good, very good, yay."
Everyone in the room claps in tandem to the 'very goods' before dissolving into chuckles of merriment at the 'yay'.
They're here at the invitation of Sister Ann, a slight figure with rosy cheeks and a gentle purpose.
"I've invited everyone in Muirhouse to attend 'A Moment of Peace Day' here today," smiles Sister Ann.
"I just thought it would be nice to give people the chance to stop their busy lives for just a moment and take a breath - to listen, to pause and to laugh.
"Jo is here to show us how to do Laughing Yoga."
Jo Bluett, 47, has a laugh that could be classed as illegal it's so wonderfully contagious.
"I'm a Laughter Facilitator and Laughing Yoga teacher," smiles Jo, from Tollcross in Edinburgh.
"It was developed in Mumbai by an Indian doctor by the name of Doctor Kataria. He recognised that laughter can give you a great cardio work out, help with weight loss and can even be a way of controlling stress and pain.
"I had to give up work ten years ago because I have ME. I heard about Laughter Yoga and realised almost immediately that was what I wanted to do.
"I went down to London to learn it and I have noticed a difference in my own health through the techniques that you use.
"Your mind can't actually tell the difference between real laughter and fake laughter, so it's possible to get the benefits even when it's faked."
Around the room, people from all areas in Muirhouse seem to be feeling the merry benefits of the laughing exercises.
"It's been quite an experience," laughs Helen Fisher, a first timer to the giggle therapy.
"I wasn't sure what to expect, but the whole day has been great. Sister Ann has done a wonderful job. Muirhouse has gone through a lot of changes but days like these help people come together."
Formerly the home of mansions, Muirhouse became a council housing estate in the 1950s with pavement slabs running where wealthy merchants once walked.
Even on the street outside this room of merriment, empty packets lie discarded, blowing through the silent shopping mall that stands as a gateway and tired guardian to the centre beyond it.
Shards of glass hang in its peeling window frames, catching the cold autumn sunlight. Inside, newsagent shutters are firmly padlocked down next to only a few open doors.
One leads to an office labelled 'Community Renewal Centre', the other to the drug and alcohol office that lies opposite it.
The Arts Centre is like a bright, merry bubble floating just outside it though - a symbol perhaps of a community trying to grow.
Inside, the laughing locals have retired to the community canteen for hot soup and a chat.
Some wander out into the garden to see where Sister Ann says new bulbs will be planted as part of another project to bring the people of Muirhouse together.
Along with the Laughing Yoga, it seems as though Sister Ann and other local groups are planting seeds of 'community' in people's minds, along with tulips and sunflowers.
Out in the garden, Sister Ann and another of the area's most dedicated protectors, Betty McVay, are standing, smiling at the ground in the sunshine.
Scoured into the cement in front of them are lines of words, the letters already crumbling under the forces of weather and time.
"A poem," explains Betty, aged 80. "It was put there by the people."
A small lady, with a cloud of silver hair and piercing eyes, Betty has already been honoured with an MBE for her services to the community.
"It's in a carrier bag at home," laughs Betty. "I think it meant a lot to the family, because when you do give yourself to community work, in a way your family is brought into it too and has to put up with you."
Betty looks at the ground again, lost for a moment in memories. It's been ten years since the words were engraved there.
"I remember when this was written, years ago now. It reminds me of a time when there were a lot more buildings in Muirhouse and a different kind of feeling. A lot more 'community' if you will.
"It's taken a while for people to realise that 'community' is more than a new building. You can throw millions at an area but it's the people that make it. 'Community' has to come from within.
"But look what's happening here. People get together at this centre to do healthy eating classes, bake bread and just have a chat – it's a lovely place."
It's a positive feeling for an area that has spent much of its history dogged by reports of high unemployment and crime despite council regeneration plans.
"People do have some fond memories of the place and we're proud of what we have," smiles Betty, her eyes on the poem again and its words that still stand clear:
Everybody is somebody…we might be on the outskirts of town but that doesn't mean we should be kept down in the ground. We each have a light inside and each of us has the right to let that light shine.
For more information on the various group activities being organised you can visit the North Edinburgh Arts Centre website. If you would like to book a place on the next Laughing Yoga Class, Jo Bluett has more information on her website Laughter For Health.