The Waiting is almost over for Regi Claire's latest work of fiction
Regi Claire, the Swiss-Scots wife of Edinburgh's Makar Ron Butlin, says she is 'see-sawing' between her two homes.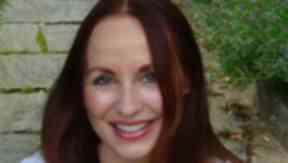 "I'm Swiss but I'm Scottish too," says Regi Claire. "I belong to both countries but somehow don't belong to either.
"I think I'm trying to bridge that by writing books."
Born and brought up in Switzerland before moving to Scotland, the author, who speaks four languages, writes solely in English.
Her previous work traverses the continent, giving voices to 'misfits' from various sub-cultures, touching on different ages, classes and nationalities.
So it follows that, despite setting her latest novel entirely in Edinburgh, Regi would turn to the centre of Europe for support.
"I got a writer's bursary from the Swiss Arts Council on the strength of my first chapter," said Regi. "But this book is totally Scottish, set in in Edinburgh. It's my Scottish book."
There's no doubt Regi has a grasp of the country's psyche though. Moving to the UK 19 years ago, Regi married Scottish writer and the current Edinburgh Makar Ron Butlin.
But if it wasn't for her former partner, who was studying Butlin's work for a master's degree when she first came to Scotland, Regi might not have met him – or made her own way into writing.
"I came to do do my own research in Scotland and my then partner gave me a bottle of wine to give to Ron. I was really nervous but I was staying with an old lady who was really forthright and invited him for dinner.
"I've still got a picture of us that the old lady took and you would have thought we had always been together.
She added "I never wrote in Switzerland but I had always wanted to write books, I was always the bookish girl, and in a sense meeting Ron and being encouraged by him made me do it.
"He just said to me 'look, if you want to write it, don't put it off, if you have a dream you might as well see if you can do it.'
"The words 'if only' can be so destructive, they can undermine your self esteem.
"I'd always felt with a thesis in general I was kind of not doing my own work but was using someone else's work to get ahead. So when I started writing myself I was delighted."
Ditching her PhD and moving to Edinburgh along with her golden retriever, in 1993, Regi began writing, and was soon rewarded, winning the Edinburgh Review Tenth Anniversary Short Story Competition.
Since then she has published three books – two short story collections, Fighting It and Inside-Outside and a novel, The Beauty Room – and has been nominated for various literary accolades, including the Saltire Book of the Year Award and the MIND Book of the Year Award.
And while she regularly collaborates, exchanges notes and trades advice with her husband, she's determined not to ride the coattails of the well-known writer.
"I didn't want to use Ron's name, I didn't want any unfair advantage," she said. "But he is very encouraging. It can be intimidating because I know how esteemed he is but he also shows me to strive and to improve which is wonderful."
It wasn't until 2008, shortly after having her last collection of stories – the fittingly named Fighting It – accepted by a publisher, that Regi truly needed to rely on Ron, her family and, surprisingly, her fiction writing, when she was diagnosed with bowel cancer.
"The title had been decided before I was diagnosed, it was very weird," said Regi.
"The book was always a life saver because I knew there was something positive – it would survive even if I didn't. We don't have children - if you have children you also have something to hang on to. But if you're a writer you have your book, it's something which will go on, it gives you strength.
"It took a long time to start writing after the illness though, it takes a lot of your confidence because if you can't rely on your body any more, you start doubting yourself.
"The upside of it is that you start to realise life is too short to think too much about what other people think, I try to be more myself. On one hand you have the self doubt and mistrust of your body that seeps into your mind and creativity, but you also feel a tremendous sense of freedom."
Now fighting fit, having been given the all-clear and conquering the self-doubt resulting from her illness, Regi is writing again, and about to launch her new novel, The Waiting.
Set in Edinburgh, the story runs on two levels, and follows the 'crazy relationship' between two women.
And while she is keen to stress that the tale is purely fiction, Regi admits that she was given inspiration by a new friend made on the city's Meadows.
"It really started off with my dog walks with my then retriever, Amber, where I met this old lady - I used to hear her shout for her dog Barney. Gradually we became very friendly and she started telling me about her own life and I remember thinking these stories were unbelievable.
"We would go to her house in Marchmont after walking our dogs and she would have prepared sandwiches and cakes, the teapots would be out, and there would be gin and tonic too - though she soon realised I preferred vodka – and she would tell me all these stories. The novel was kind of inspired by these stories."
Regi will launch The Waiting in the Central Library on November 1 at 6pm, where there will be music from John Sampson and Swiss sparkling wine, courtesy of the Embassy of Switzerland.
IN DETAIL