Festival to celebrate Forth Road Bridge's 50th birthday milestone
Celebration of the Bridges will include a free fireworks display and flotilla of boats.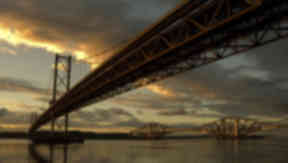 A ten-day festival is to be held to celebrate the 50th anniversary of the Forth Road Bridge.
Celebration of the Bridges will include a flotilla of boats, free fireworks display and the chance for 2014 members of the public to climb to the top of the bridge's main tower.
Held in September 2014, events will be held in North and South Queensferry including an attempt to set the world record for the largest ever sit-down lunch.
The celebrations will be promoted as part of the Year of Homecoming, planned for 2014.
Transport Minister Keith Brown said: "Scotland's Year of Homecoming in 2014 will celebrate throughout the year the very best we have to offer as a country, so it is fitting that one of the most recognisable feats of Scottish engineering will also celebrate its own 50th anniversary then.
"The Forth Road Bridge has provided 25m vehicles every year with a connection between communities north and south of the Forth estuary whilst acting as a vital link in Scotland's transport network. I am delighted to endorse the funding bid which will support preparations to celebrate the Forth Road Bridge's past, present and future."
By the time the festivities take place, the towers of new bridge will be visible.
Tony Martin, from Feta, said: "By September 2014 the three towers of the new crossing will have risen from the Forth and, together with the world-famous Forth Bridge, we will have a unique attraction with three major bridges from three different centuries.
"We want to celebrate the Forth Road Bridge reaching its 50th birthday with a programme of events of fitting scale and spectacle to do justice to these iconic structures.
"Feta is delighted to be working in partnership with the local communities on either side of the Forth – together we hope to deliver a really memorable celebration as part of the 2014 Year of Homecoming."
Further details will be announced over the next few months.