Samhuinn Fire Festival brings myth and legend to life for one night
The Beltane Fire Society say farewell to the summer with this spectacular procession.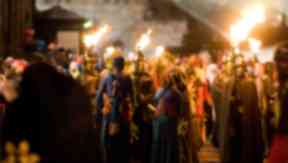 Blue gods, unearthly creatures and impish red men parade down the Royal Mile, backed by the ritualistic banging of drums.
Fire lights the night sky while the lords of summer and winter vie for attention.
A sight to behold, the 25th Annual Samhuinn Fire Festival engulfs the historic thoroughfare, marking the end of the summer with a flurry of costumed performers, puppets and dance.
Celebrated as the Celtic New Year, the event brings to life to creatures and legends from pagan and Celtic mythology.
But, as Zander Bruce, co-organiser of Samhuinn and co-secretary of the Beltane Fire Society, explains, the festival is open to all.
"Beltane is about having a different community event that people can come along to that marks the changes of the seasons, an opportunity for people to get creative and build amazing performances together.
"It takes a lot of traditional and non-traditional Scottish and British Celtic symbolism and draws in a lot of older myths that are very much part of many people's pagan beliefs as well. But there's no kind of orthodoxy to it - we involve people from all walks of life, all ages with all different skills."
Run by the Beltane Fire Society for the last 16 years, Samhuinn complements the Beltane Fire Festival, held each April on Calton Hill to celebrate the coming of summer.
Every year thousands of people flock to the site, led by the May Queen and Green Man (representing fertility and growth) in a torchlight procession, to enjoy a night of dance, performance and mythology, inspired by the Gaelic festival of Beltane.
Many of the characters participating on Calton Hill reappeared to wave goodbye to the summer on Wednesday, including the mischief-making Red Men, the White Woman and her handmaidens, who protect the May Queen, and Blue Men, who represent Celtic warriors.
But while Samhuinn, which is said to be associated with the death of nature, is deemed a modern celebration, it is undoubtedly a key celebration for Edinburgh's pagan community, of which Zander is a member.
"We do have a lot of pagans that get involved, that's brilliant. Paganism is something that's been growing in Scotland for quite a while," he said.
"I got interested in it in my teens and I think it was something that was always there for me it just really resonated with me. I think it's really nice to find your own path in terms of spirituality because you know it's yours and not something that's been handed to you.
"I think it's still seen as very fringe at the moment, but there does seem to be more of a shift in people's perceptions away from the titular newspaper headlines and books of the 70s and 80s, which made it appear sometimes a bit sordid.
"There's less stigma nowadays - there's much more fluidity so people determine for themselves what they connect within terms of deity or higher power. There's a blurring of the lines which I think is only a positive thing, people taking responsibility for their own beliefs."
Video by Laura McLean
IN DETAIL