War artist Jules George exhibits work drawn in heat of Afghan battle
Edinburgh College of Art graduate Jules George went to war armed with a paintbrush. He shares his story as his paintings reach the city in aid of charity.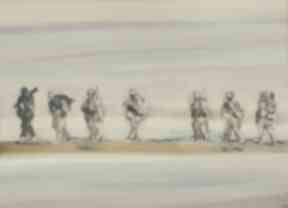 In the chill of February 2010, the air still shadowed with the frost and memory of a bitter winter, an artist stepped off a plane and into a land at war.
Jules George arrived in Afghanistan during a year that would be black labelled by the United Nations as being the bloodiest war in a decade with an average of eight civilians killed every day amidst rising numbers of troop casualties.
It would be an environment normally reserved for the most hardened of battle trained men – not for an Edinburgh College of Art graduate more used to city streets than bullet ridden dust paths.
"It's not the normal art scene, you're right," admits Jules, 43. "But it's a place I had to see. My dad and my grandfather were in the army and I had not long lost my dad.
"It sounds a bit odd but I wanted to connect with him a bit and I think I thought that going into the environment which both he and his father experienced would help me do that.
"I sent in a proposal to the Ministry of Defence and after about a year of discussion they agreed to sponsor me to embed myself with the troops in Afghanistan.
"I had to go on a hostile environment training course to get physically and emotionally ready to go, but to be honest I think sometimes all the training in the world can't prepare you for some environments."
Arriving as an officially sanctioned war artist, John was embedded with 2 Yorks (Green Howards), part of the 11th Light Brigade.
"By the very nature of the place I was in things got serious and scary quickly," Jules explains. "I got caught up in a three hour fire fight on one occasion and on another three improvised explosive devices (IEDs) went off – one right by our vehicle which left us with a couple of injuries.
"Nothing really could have prepared me for that kind of scenario, at least from my civilian perspective. Soldiers go through a lot more training and one even said to me that after experiencing their first point of contact they do get used to it in a way.
"For me, the camaraderie was amazing. I mean, when I arrived they must have been like 'who is this guy' because I was there with a paintbrush doing things completely strange to them.
"But they accepted me so quickly and I spent the evenings drawing portraits for them."
Starting in Kandahar, Jules was based in Shorabak, the main Afghan National Army camp adjacent to the British military base, Camp Bastion. He visited military posts (Forward Operating Base Shawqat and Patrol Base Chillie) in the Nad-e-Ali district, close to where British and Afghan soldiers launched Operation Moshtarak, described as the largest offensive in Afghanistan since 2001 aimed at routing out Taleban militants who'd taken control of the area.
It was therefore a particularly dangerous area for an artist such as Jules to try and carry out his work.
"I don't know how I did it really," says Jules, attempting to describe his working day there. "I had really large inside pockets to my jacket usually used to hold magazines for rifles. I used them to hurl in brushes and pencils if I had to get up quickly and run.
"I became a very quick drawer in order to capture what was going on around me though it was tricky at points. I got the backlash from a helicopter once and got swept off my feet, paper and pens flying. The drawing I'd been doing got ripped down the centre but I kept it that way to reflect the rawness of the area.
"It was like using a camera in a way – I drew to capture the essence of the environment. I've managed to produce 65 paintings out of the hundreds of drawing I did out there and they're now about to go up for auction at Bonhams in Edinburgh to raise funds for the charity Combat Stress.
"I'm still in touch with the lads that I met over in Afghanistan and that's partly why I wanted to help a charity for them with my work as they looked after me so well."
Jules added: "My granddad also suffered so terribly from his own experience of war. He served in WWI and he sadly passed away at the age of 97, but even into his 90's he still had nightmares about his time in the trenches.
"Even I get vivid flashbacks from the things I saw when I was out in Afghanistan and I was only out there for three weeks. I can't begin to imagine what it must be like for soldiers who are out there for six months at a time.
"When I went out there I went out to be as objective as possible with no political side, but all I can say is that I have huge respect for the men and women who are out there."
Along with supporting the soldier's charity and the troops that he has met, Jules also says he took back more than just his drawings from the war zone.
"There were questions I was left with that I wanted to ask my dad that I wasn't able to ask," explains Jules. "Some of these were answered for me by my experience out there. I now feel that I understand my father and grandfather more.
"It is an honour to bring my work to Edinburgh. I have seen firsthand the trauma our service men and women go through. Without the dedicated teams and first class service delivered by Combat Stress more and more Veterans would fall through the gaps and not receive the much needed help and support that Combat Stress provides.
"My work tries to convey the experience of what it is like to be on the frontline, the elements of fear and energy, the camaraderie and the determination of the troops. For every setback, for every friend injured, the troops become more determined to succeed. I have huge respect for these men and women, so it is vital Veterans know who to turn to in order to get the support they deserve and I want to do my bit to help."
The Jules George exhibition takes place in Edinburgh's Bonham's next week from November, 11, to help raise funds and awareness for Combat Stress, the UK's leading charity that specialises in the care of Veterans with mental health problems.