Fan ownership expert: Hearts consortium are credible bidders
Paul Goodwin of Supporters Direct has worked with group for two years.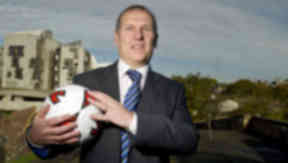 A football fan ownership expert believes the consortium aiming to take over Hearts and hand it to the fans are credible bidders.
Paul Goodwin, head of the Scottish Government-backed Supporters Direct, led the buy-out of Stirling Albion FC by its fans in 2010 – making them the first supporter-owned club in the Scottish Football League.
Goodwin has met with the group, called Foundation of Hearts and believes their plan can work – despite an initial approach to Hearts being rejected by the club on Tuesday.
He said: "They've been working very, very hard behind the scenes for the last two years developing a model looking as all the various options for a community-based club.
"I'm really encouraged by the progress they have made, looking for a programme that has Hearts fans at the front of a campaign to put the club in their hands.
"There are no white knights out there and everybody knows that, so all the aces are held by the Hearts fans.
"It is their club, they want to move it to a new position and I think [Vladimir Romanov] has wanted out for a few years. Here's the opportunity to develop something.
"This is a credible group. They want to have the fans involved completely in the campaign and the people have done a lot of groundwork."
Goodwin revealed that the Foundation of Hearts model would involved existing supporter groups being brought together to work for the good of Hearts.
He also said that the ownership model would operate on a membership scheme, with a leadership team reporting to the fans.
Goodwin said majority shareholder Vladimir Romanov should not fear the Foundation's intentions.
He said: "I'm sure he knows the power of Hearts fans, he has seen it on many occasions.
"There isn't any fear from this, it is about negotiating what is best for him to get the exit he wants and he's going to leave it in the best possible hands – that of the fans."