Painter's museum masterclass aims to bring history and art to life
Acclaimed artist Alan McGowan mixes mummies and art in a bid to get Edinburgh drawing.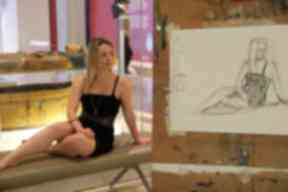 Thousands of years ago, by the flickering light of fire deep in caves of stone, man began to draw.
With burnt ash, red ochre clay and even with blood, they traced their hands and painted outlines of the animals they hunted.
We will never know what drew the first of our ancestors to capture in time the world around them, but now, almost 40,000 years on, in the very building where their history is preserved, man is once again sharpening his tools.
At the National Museum, compressed under the weight of ages, where high stone walls protect the relics of the past, Edinburgh-based artist Alan McGowan is unwrapping a stick of black willow charcoal – similar to that once used in the depths of ancient caves.
In front of him, resting in front of a centuries old Egyptian mummy, a beautiful young girl gazes into the distance while around her the entire history of the world sleeps.
"It's an odd place to be doing life drawing," admits Alan.
"It's new for me I think. Here, we have a special opportunity to work with these different artifacts and culture items.
"We're doing something quite interesting, which is taking a live person and putting them near a sarcophagus with a mummy in it, so we're looking at 3000 years compressed into that relationship between the two.
"There's a person in that coffin as real as the very much alive girl sitting in front of it.
"One of the things you look for in life drawing is the context of the figure and the environment the figure is in. Sometimes it's just about drawing the person, but sometimes it's about the space they inhabit.
"That way the drawing itself becomes a story."
Alan takes up position in front of his easel while around him curious museum visitors edge a little closer. An unusual site to be seen in a museum where items on display tend to be a lot less warm and full blooded, model Andra, professional as always, barely bats an eyelid as Alan begins to draw.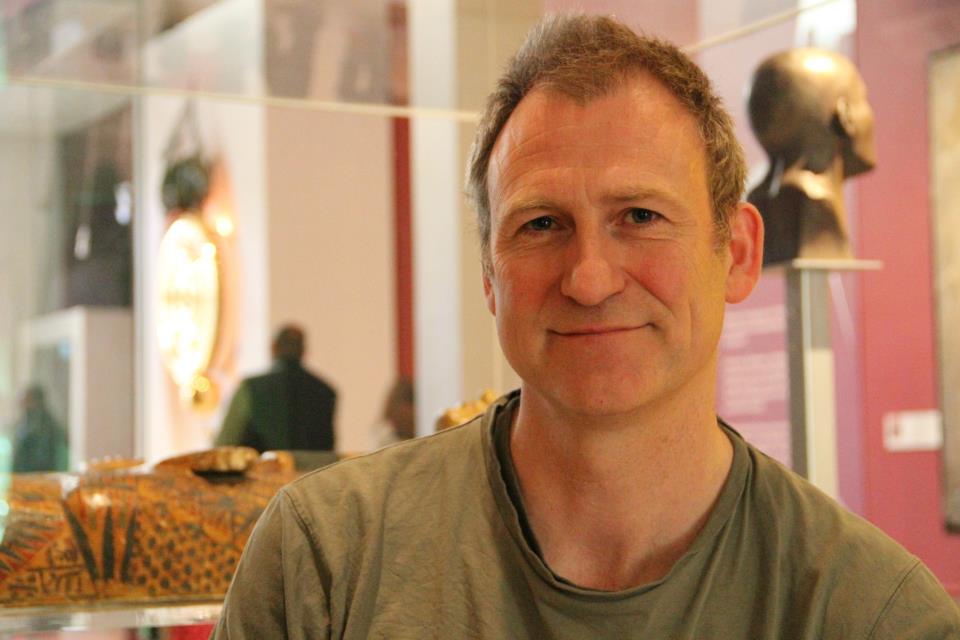 "Personally I hone in on the figure more but that relationship between figure and space is important in my paintings," explains Alan.
"For example Rembrandt had figures looming out of the darkness. You don't know where they are, but that darkness still becomes a part of the picture in a big way.
"There's a lot of history being compressed in my drawing Andra next to the mummy. Here's a person who's been dead for thousands of years and there's Andra, very much alive.
"There are all sorts of things you can take from that, there's the memento mori idea, where the subject of the painting reminds you of your own mortality and your own death.
"So there's a sense of what Andra is now – alive and young and running about, and the sense that this person once was too. And what this person is now, we will be too at some point in the future. So there's continuity between us. I'm hoping I'll be encouraging other people to build a relationship between these two things."
Alan and Andra are here at the museum ahead of the museum's Come Draw with Me event on Wednesday where along with other artists Alan will be delivering classes to the public to encourage them to draw.
Landscape artists Kate Downie, designer Colin Parker and award-winning children's book illustrator Catherine Rayner have already agreed to take part with no experience necessary from those who sign up to the challenge.
"Anyone can draw," insists Alan as the graceful lines he is sketching begin to take life.
"It's a kind of language which has to be learned and adopted.
"I would say it's easier when you're young but it can be learned by anyone. It's all in your ability to learn not your ability to draw and it's about how much you enjoy it.
"I've always loved drawing; I've loved looking at drawings. And so for me, it's not work it's an enjoyable thing. For me, drawing is a kind of conduit for me to try and relate to the world, to understand it."
Figurative painter and author of The Language of the Body, Alan is currently represented by Gallery Heinzel in Aberdeen and the Kilmorack Gallery in Beauly, Inverness-shire.
A graduate of the Edinburgh College of Art, he has exhibited and toured within the UK and his works appear in private collections in the UK and in the USA, Norway, Switzerland and Ireland.
"It's been a good way for me to interface with the world," Alan explains. "It's a rich kind of thing and it makes you aware of what's going on all the time.
"You're always walking about the world looking at things, but it's only when you stop and try and record what you see that that you realise there's actually a lot of stuff going on that you never noticed before and took for granted.
"You find you never really looked."
Model Andra, who is also an art student, agrees with Alan: "When you start drawing, it really brings you into the moment, out of your little dramas or whatever is going on in your life.
"You start focusing your mind and you realise you never realised how much you could see and how much you could grasp in one second.
"It brings awareness into your everyday life. It's a subtle change but it makes a difference to how I experience life everyday."
Now relaxed from her pose, Andra will spend up to 40 minutes holding a position as a life model and it's through her interest in that that her own forays into the art world began.For Alan, Andra's experience of finding a 'moment' in art is similar to his own.
Alan said: "When you're working you don't think about other stuff, I've never done yoga but I would imagine it's close to that. It's very much focused and excludes lots of things.
"For me it very much feels like doing what I'm supposed to do. I'm fulfilling myself when I do it. Things become what they're supposed to become."
"Time is very interesting in the visual arts too because you freeze it in a way and extend it. If you look at a painting for instance, you're looking at something which is a moment of somebody there, but you're looking at something that might have taken 100 hours to paint, or even years.
"You're looking at a year in a moment, so it's a strange thing. In visual art you see the whole thing instantly but you can look at it for years to come and it can still keep giving, and you can still get something different from it every time you see it.
"They exist in time in a strange way."
Capturing time and meaning in time is a vital part of Alan's work and a vital part too of what he feels anyone wishing to explore art should experience too.
Alan said: "People think about life drawing as an historical activity, but I think it's about being very caught up in ideas that are cutting edge especially in the digital age.
"You start to question your brain. Photography doesn't do that; it's so instant and so infinitely repeatable that the images are flying everywhere. You don't question the images in the same way.
"In life drawing it's there and you're there with it. It's raw and makes you question why, what's going on and then you find out that there's all this stuff in your head that you never realised before."
"Art makes you question what's real and what's not and challenges how we participate in the creation of the world.
" We're not passive consumers of the world; you bring some of yourself in so you actually create the world that we live in.
"We are constantly creating the world that we're in and at the same time trying to get hold of something that is there."
And perhaps it's for that same reason, thousands of years ago, that our ancestors, like Alan, first felt the urge to capture the world around them.
The caves and the firelight might be gone but the idea and the reason remain the same – people are not passive consumers, they are eager and interested in the world around them. And, like Alan, they're ready and willing to learn how to draw it.
Bookings for the Come Draw with Me event on November, 21, at the museum can be made online at the National Museum Website.