Heaven is a half pipe for Edinburgh skier hoping to make it to the top
At 20, Murray Buchan is already considered a 'veteran' of the freestyle ski scene - now he wants to be an Olympian.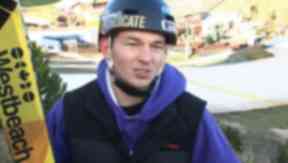 At the age of six, Murray Buchan wanted nothing less than to wrap up warm, pull on a pair of ski boots and slide precariously down a barren ski slope.
Coaxed by an enthusiastic mum, dad and brother, the schoolboy took his first tentative steps into the sport at Hillend, reluctant to say the least.
Fast forward 15 years, and the former Firrhill High pupil can't imagine a life without his skis.
"There's nothing I'd rather do," he said.
Now a member of the British Ski and Snowboard Team, Murray has been impressing judges with his take-offs, flips and rotations since he was 11.
With a string of accolades to his name – including winning at the London Ride two years in a row, a podium position at the British Freestyle Championships and being named overall youth at the Austrian Open Slopestyle – he is preparing to take on the Winter Olympics.
"At first I absolutely hated skiing, I did not want anything to do with it, but my mum, dad and brother all skied so they encouraged me to keep doing it," he said.
"Then they built the jump slope up at Hillend and I loved it, I was up here non-stop, all day everyday, and started to do quite well in little competitions.
"Then I got my first sponsor, which was Freeze Pro Shop, and as soon as I had that I thought, 'I could make a good go of this'."
Four years ago Murray was approached by head coach of the British Freeski Team, Pat Sharples, and asked if he wanted to take part in the Freestyle Ski World Cup in Colorado.
Since then he has built his ranking to 20th, reached at the 2011 event – no mean feat for a boy hailing from the relatively snow-deprived area of Edinburgh.
"I've grown up skiing dry-slope at places like Hillend, and when there has been competitions abroad in the winter I will travel to them and compete," said Murray.
"But it's difficult because you're competing against people who are skiing all year round, with training facilities on snow nine months out of the year.
"We have to do a lot of training outside of coaching, so that's strength and conditioning, trampolining, diving, flexibility, gymnastics and all that sort of thing when we can't go on snow."
This week, the 20-year-old will head to Colorado to the 2012 World Cup, where he will attempt to break into the world's top 20 freestyle skiers, before beginning the qualifying rounds for the 2014 Winter Olympics in Sochi, Russia.
Scored for amplitude, technicality and grabs on the 22-ft half pipe, the 20-year-old will perform against some of best competitors from the snowiest regions in the likes of France, Canada and the USA.
"There will be a lot of stiff competition; you're competing against guys who've skied their whole lives on snow so it's very difficult to get a good placing, " said Murray, who now spends his winters training in Breckenridge in Colorado.
"I'd like to try and compete at the same level and I think this year we will show what we can really do as we've been working really hard on and off the slope so we should get the results.
"It's very rare to find Scottish people on the World Cup circuit. But the grassroots system at the moment is great, Snowsport Scotland have got a great set-up in Glasgow and Hillend so I think if the funding becomes available there will be a lot more Scottish skiers."
One of the people cheering Murray on will be Robbie Kerr-Dineen, part-time coach and brand manager for Edinburgh's Freeze Pro Shop, who have been supporting Murray for almost a decade.
"I remember very vividly the first couple of times I saw Murray at Hillend. He was tiny, really small, which gave him that added wow factor. It was amazing that someone that small could do it at all," he said.
"He very quickly became a focus for Scottish skiing and even by the time he was 16 he could be described as a veteran of British skiing, particularly because the sport itself is so young, by that time he'd been on everyone's radar for six years.
"He's definitely got a very good trick bag and I think it's achievable for him to break into the world's top 20 - he already placed 21st in the first world cup event of this year, which was in New Zealand in August, that's a wonderful start to the season."
Also backing the athlete on from the capital will be Midge White, sponsor and owner of Edinburgh-based underwear company Bawbags Boxers.
"I think he's a fantastic talent, we've been involved with him for three or four years," said Midge.
"He's totally committed, he's a fantastic sportsman. The talent's definitely here - it's about attracting kids and it's keeping them off the pavement doing a healthy outdoor sport."
Video by Laura McLean
IN DETAIL