Australian visitor died in the street after being stabbed in chest
Kyle Montgomery is on trial for murdering Thomas Allwood who was found dead in Broxburn, West Lothian.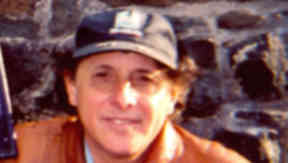 An Australian visitor to Scotland died in the street of a small town after being stabbed once with a knife.
On Monday, a jury was told Thomas Allwood's body was found in Broxburn, West Lothian, in the early hours of June 21 this year.
At the High Court at Livingston, the prosecution and defence agreed the cause of death was a single stab wound to the 55-year-old investigative journalist's chest.
Kyle Montgomery, 24, is on trial after pleading not guilty to murdering Mr Allwood.
Montgomery, from Winchburgh, West Lothian, denies assaulting the Mr Allwood on various occasions on the night he died, repeatedly punching him on the head and body, pursuing him with a knife and striking him on the body with a knife.
The attacks are alleged to have happened in Galloway Crescent, Clarkson Road and elsewhere in Broxburn.
Mr Allwood was found by members of the public lying in Pyothall Road, near Clarkson Road, at about 4:45am.
June Douglas, 44, who lives next door to Montgomery's father Robert in Galloway Crescent, said she saw the accused in the street at around 1pm on June 20 carrying a bag which she assumed contained alcohol.
A few minutes later she saw him at the door of his father's home trying to get in.
She told the court her neighbour was a known alcoholic and frequently caused a nuisance. In the early hours of the following morning she said she was startled by a loud bang on the wall of her bedroom just after 3am.
She said: "It was as if somebody was going to come through the wall. It gave me a start - I'd never heard anything like the bang. I just took it that they were fighting and banging off the walls. It was something that happened all the time."
Under cross examination by defence advocate Derek Ogg, Ms Douglas agreed Mr Montgomery's house was "used like a drinking den".
She added: "It was like living next door to a pub."
Her friend Christopher McDonald, 31, who was staying with her at the time, said loud music, banging and the sound of raised voices had continued long after Ms Douglas had gone to bed. He was also startled by the loud noise at around 3.15am.
He said: "The bang was the one thing that was out of the ordinary. I just assumed they were fighting again. The whole house shook."
He said he identified the sound of four voices in Mr Montgomery's one-bedroom maisonette that night. Things went quiet after the bang, then he said he heard someone leave by the back door.
He told the jury: "Someone went out quietly. The door was never closed quietly. What drew my attention was that it wasn't slammed. Later - after 5 0'clock - I heard really loud voices from the garden.
"I got really angry at that point. I pulled aside the curtain and I was ready to go mental, but the police were there."
Earlier barmaid Lisa Feenan, 30, said the accused's father Mr Montgomery had left the Badger's Brook pub in Broxburn just after 10pm on June 20 with a man she knew only as "the Australian".
She said Mr Montgomery had been drinking Guinness in the bar for an hour and a half but the Australian visitor, who was with a woman she knew as Margaret, had only taken soft drinks.
In a joint minute of agreement read to the jury, the Crown produced technical evidence, including records of mobile phone calls by the accused, his father Robert and Tina Borst.
CCTV footage from cameras in Broxburn Main Street and the Badger's Brook pub was lodged as evidence along with a recording of a 999 call made by witness James McMillan on the morning of the incident.
A till receipt for cigarettes and a lighter from the Costcutter store at Fairfield Service Station along with CCTV film captured just before 5am have also been lodged.
The trial, before Lord Doherty, continues.