Footballer Derek Riordan shouted homophobic abuse at club bouncers
The former Hibs player was being thrown out the Picture House in Edinburgh when he shouted the abuse.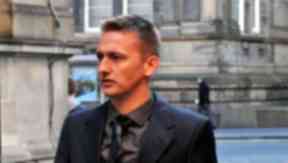 Footballer Derek Riordan has been fined £800 for shouting homophobic abuse at bouncers who threw him out of a nightclub.
The former Hibs player, 29, abused staff who ejected him from the Picture House on Lothian Road, Edinburgh, on May 7, 2012.
On Friday, Edinburgh Sheriff Court heard how Riordan called workers at the club 'p**fs' as they threw him out of the entertainment complex. He had been removed because he is banned from life.
Riordan pleaded guilty to breach of the peace at the start of the second day of his trial. The Crown dropped an assault charge alleging the player grabbed a bouncer by the throat.
Depute fiscal Gerard Drugan reminded the court of evidence given last month by bouncer Michael Moore.
Mr Moore had told the court a colleague told him that Derek Riordan was inside the club at 12.30am. He added the footballer was banned from Edinburgh clubs under the Unite scheme.
He and a number of colleagues went to speak to Mr Riordan on the dance floor but he refused to leave.
Mr Moore told the court Riordan said: "'F**k off. I'm not going anywhere. I've not done anything wrong'. It was an aggressive tone of voice. He was just proceeding to dance. He was drinking beer. The beer was spilling all over myself. I am unsure whether this was deliberate."
Mr Moore said he and his colleagues took Mr Riordan by the arms and led him from the club, taking him down a fire exit. He said the player was challenging him and his colleagues to start hitting him.
He added: "He was shouting 'we're in the stairs now. You can do whatever you want you bunch of p**fs.'"
Mr Moore said they contacted the police who came within a matter of minutes.
He said Riordan shouted a homophobic insult at the police officers, some of whom were female.
Mr Moore added: "He was calling them p**fs regardless of the fact they were females."
On Friday, defence solicitor Kathleen More told the court Riordan was sorry for his conduct.
She added: "He is subject to a ban under the Unite Scheme. He has been provided with a list of pubs and clubs in Edinburgh which are part of the scheme. However, he was unaware that the Picture House venue was part of the scheme. Venues that are part of the Unite scheme usually have signs above their entrances. The Picture House does not."
Ms More also said that Riordan had spent the evening of May 7 drinking with friends and had gone onto the Picture House to meet friends.
She added: "He was only inside for 15 minutes at the most. He was asked to leave before he had finished his drink. He was caused some pain and discomfort when he was being ejected from the venue.
"I am afraid this is what sparked his aggressive behaviour." Sheriff Morrison fined Riordan £800.