Famous Linlithgow hotel destroyed by fire
Blaze started in linen cupboard of Star and Garter Hotel.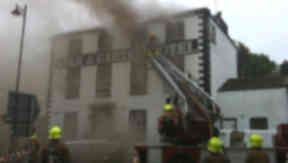 A famous hotel in Linlithgow has been destroyed by fire.
Lothian and Borders Fire and Rescue said the blaze at the Star and Garter Hotel, in the town's High Street, started in a linen cupboard.
The fire at the West Lothian hotel, which was built in the Royal Burgh in 1759, began in the early hours of Friday morning and is ongoing. All that is left of it are the four walls. The roof and interior have been destroyed.
Five people were evacuated from the hotel following the outbreak of the blaze but there are no reports of injuries.
The nearby Linlithgow Train Station was closed for several hours on Friday morning as a result of the fire. It re-opened around 12.30pm.
A spokesman from Lothian and Borders Fire and Rescue said they were called to the hotel at 7.04am. Early investigations by fire fighters discovered the source of the blaze was in a linen cupboard on the first floor. The fire then spread into the second floor and the roof.
55 fire fighters, in ten fire engines and support vehicles, tackled the blaze and several of them are expected to remain at the scene for the rest of the day.
Bo'ness resident Craig Smith told STV News: "I was there when the roof appeared to collapse. It looked like the upper floors were affected by a pretty fierce fire, but a building that old - I would imagine - would struggle to cope with the volume of water being used.
"It was a great pub as well, always good atmosphere and friendly staff. This is the end of an era."
Before Linlithgow train station re-opened, trains between Edinburgh and Glasgow Queen Street and Edinburgh and Dunblane travelled through the station but services due to stop there did not do so. A bus service was also put on by ScotRail between Polmont and Linlithgow town centre.
The Star and Garter is located near Linlithgow Palace, the birthplace of Mary Queen of Scots. According to its website, the 15-room hotel is family owned and hosts a 60 seat restaurant.
IN DETAIL