Bwani Junction plan to whisk up a frenzy with second album release
Bwani Junction are currently recording their second album and have been announced to open this year's Hogmanay celebrations.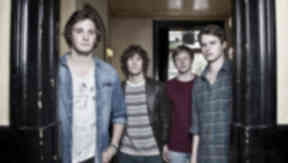 With a summer filled to the brim with festivals, it is no surprise Bwani Junction were asked to play the main stage at this year's Hogmanay celebrations.
The Edinburgh-based band live together and, arriving at their surprisingly tidy flat, they emerge one by one bleary-eyed and yawning.
As tea orders are taken, bass guitarist Fergus Robson lines up the mugs along the kitchen worktop ready to awaken the band into a musical frenzy. It was 8am and the neighbours may not have appreciated the guitars, singing and bongo drums.
Sitting on the sofa, drummer Jack Fotheringham shouts, "I might take three sugars", as he's had just two hours sleep, in true band style, after being out the previous night.
Despite the initial tired looks, the band are awake and enthusiastically talking about their new album release and are ready to face another day in Chem 19 studios in Blantyre.
Guitarist and vocalist Rory Fairweather said: "We're excited about its release.
"We're getting vocals finished today then backing vocals later.
"We want to have it finished by Christmas and get it out early next year."
Just how long does it take to put an album together?
Dan Muir, guitarist, said: "This one will be about 40 days recording and with rehearsal on top it's probably 100 days in studio all together."
Jack added: "Some of the tracks we've had for a while, we've taken stuff that we didn't use for the first album and used sections out of that.
"The first track we had ready was written in March, so it is refreshed and we're really excited about its release."
This album has differed from the band's first release as Jack explained the whole band are involved more than previous efforts.
He said: "This album has been much more about a collaborative effort.
"It's been a lot more fun for this one."
The band has recorded 15 tracks for this album and plan to end with a 12-track release.
According to bunch, this album will be extremely unique for two very different reasons. Bwani Junction are using Pink Floyd's original 'Watkins Copicat', a tape echo unit, which belonged to Syd Barrett from the band.
Fergus said: "Our producer bought it online but the guy selling it didn't know it belonged to Pink Floyd.
"He bought it for £140 and it could have easily sold for a few grand."
Not only is there the unique Pink Floyd addition, the band have decided to experiment with the release in a very unique way.
Jack said: "For one of the tracks, that we can't say the name of, we've gone a bit weird in the studio.
"Our producer Paul (Savage) was telling us to try anything, so we ended up getting whisks from the kitchen and I sat blowing into the microphone through a whisk.
"Every kitchen utensil you can think of we would put in the studio and see what happens.
"We've been hitting them off things, blowing through them and we've all gone a bit mad. We thought we would spice it up a bit."
In the past year, the group have gone from playing two festivals in 2011 to 15 this summer.
Jack added: "It was a good summer for us because it was our first experience of doing proper festivals."
Fergus said: "We've been booked for one festival slot next year already and usually we had to wait until two weeks before, so it's a nice change."
Despite the band's rise to fame, it appears they have not let this go to their head.
Discussing the highlights of Hard Rock Calling as the VIP treatment with unlimited food, drinks and a swimming pool behind main stage. Racking up a £5,000 bill at the end of the weekend, it seems the band made use of the backstage area.
With their festival slots and sold-out gigs, the band mentioned that sometimes the smaller hometown gigs are better.
Rory said: "We played Fauldhouse Cricket Club and we were going into it thinking it was going to be quite a small gig, but it surprised us.
"The crowd that came to that gig have been the most loyal crowd we've had and they come to every single gig now.
"Sometimes the small ones are the best because you won't resonate with a big crowd in the same way you do with a smaller one."
The band will open this year's main stage at Edinburgh's Hogmanay celebrations.
Dan said: "I'm not nervous, but I think before we go on stage I will be."
Jack joked: "I got nervous yesterday sitting in my room thinking about it and that was by myself."
Rory added: "It's something we have always wanted to do and when we left school we thought it would take a couple of months and we'd be massively famous.
"We applied for Hogmanay then and obviously got rejected, so this is the third year in a row and we finally got in."
For 2013 the band will play South by Southwest music festival next year and have a short break from gigs to learn their new songs.
Bwani Junction also hope to return to France after their recent successful trip to cultivate their newly found fan base.
Video by Laura McLean