Parents refused babies' ashes by Edinburgh crematorium for 45 years
Mortonhall Crematorium buried stillborn and premature babies in the garden of remembrance.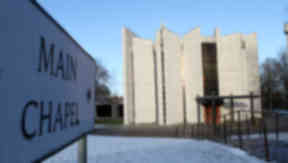 The remains of stillborn and premature babies cremated in Edinburgh were not offered to parents and instead buried in the garden of remembrance.
The City of Edinburgh Council have launched an investigation into the practice, which took place at Mortonhall Crematorium between its opening in 1967 and May 2011.
The Evening News reported that instead of being offered the ashes of the babies, parents were told there was nothing to collect and the remains were buried in the crematorium's garden of remembrance.
The local authority said they have "no idea" why this policy was in place and all members of staff involved have since retired.
It is thought the number of families denied their child's ashes could run into hundreds.
On Wednesday, Cllr Lesley Hinds apologised and said an investigation had been launched. She added they were working with stillborn charity Sands Lothians, who brought the issue to light, to see if they can arrange a memorial.
Cllr Hinds said: "I want to offer my deepest apologies to all those families who have been affected by this dreadful and completely unacceptable situation.
"As soon as I became aware of this heartbreaking matter I met with Sands to express my sincere regret and reassure them I will do everything in my power to find out how this happened.
"It is reassuring that this practice no longer occurs, although nothing can ever fully make up for the hurt families may have suffered as a result of this unacceptable situation.
"We now need to establish exactly what has gone on previously and how it was allowed to happen. We are already discussing with Sands some form of memorial as a mark of respect."
The council have set up a hotline for anyone with concerns on 0131 200 2383.