Coach reaps rewards after year of Olympic swimming success
Warrender Baths coach Laurel Bailey wins recognition from national body, sportscotland.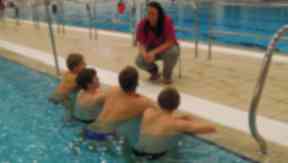 When Laurel Bailey first arrived in the UK ten years ago, she only meant to make a ten-week pit stop.
Eight years later, and the 30-year-old is making waves on the Scottish swimming scene.
Originally from Melbourne, Australia, Laurel took on a job in Britain to earn money to continue gap year travels, but little did she know the temporary coaching role would take her all the way to the Olympics.
"I was coaching swimming in Australia but really just to earn money while I was at university," said Laurel.
"I was studying social work and psychology and didn't plan on being a swimming coach.
"Then when I came over here I needed to earn some money to keep travelling and thought it would be easier to make some money teaching and coaching in Edinburgh rather than going to London and working in a pub where it's much more expensive.
"So I worked for ten weeks and after that I wasn't really ready to go home. I stayed for another year then Warrender Baths Club took me on as the assistant head coach and in 2009 I became head."
Rising through the ranks at the Edinburgh-based club, one of the country's oldest and most successful, Laurel, who was amongst Australia's top 20 young swimmers as a teenager, has grown alongside some of its brightest stars.
One of her most outstanding protégés is 18-year-old Craig Benson who made it to the London Olympics.
"It's really satisfying when you get someone like Craig," Laurel said.
"He was the youngest male swimmer on the Great Britain team. But I have 20-odd in my squad; they're all ranked really highly in Britain and Scotland for their age.
"It's not what it means to me when they do well though. It's what it means to them and the satisfaction I get is out of seeing them achieve what they've worked so hard for.
"I'm just trying to guide them to achieve their goals so I'm just proud of them and the fact they've achieved them because it's pretty gruelling schedule that they follow."
As coach of the elite squad, Laurel has guided the training of Craig McNally, who missed out on qualifying for team GB by 0.11s, and Scott Quin, who was also 0.11s short of a place on the paralympics squad.
Putting her top swimmers through tough annual and multi-year regimes which involves up to 25 hours a week in the pool, Laurel's is often the only face her team will see on a daily basis.
"Most of the guys that I'm coaching now are adults, " she explains.
"But I've been coaching them since they were 12-years-old so I guess the best thing is watching them grow up.
"I see them 25 hours a week, it's probably lucky if their parents see them that often. So I kind of play a really big part in their lives other than just trying to get them to swim fast, that's what I enjoy most about it."
Laurel's hard work and commitment was this weekend rewarded by national sports agency, Sportscotland, when she was awarded Performance Coach of the Year, an accolade she was surprised to receive.
"I didn't even know I'd won, I found out by reading it on Twitter," she explained.
"You don't really do this job to win awards but it's nice to get the recognition."
While Laurel might exude humility over her coaching success, assistant coach and former world champion breaststroke-swimmer Kris Gilchrist was quicker to sing her praises.
"There are people very high up in British swimming who tell me how lucky I am to be working with her and I agree," he said.
"She's obviously proved herself through the club and she's done a fantastic job of getting Warrender recognised as a world class programme rather than just a local club."
He added: "It's impossible to get the best out of yourself without a coach, personally I could never have turned up. These guys are doing between 20 and 25 hours in the pool, plus any land training on top of that, and even the person with the most motivation in the world you can't do that off your own back."
Laurel is now planning out the next four years of training for her swimmers, with one main goal in mind – Rio 2016.
One of her big hopes for success is Craig Benson.
"Laurel writes the whole programme so she dictates pretty much everything I do, so basically my whole life revolves around what she decides," said Craig.
"When I was a bit younger I just wanted to win everything and Laurel made me realise my training was really where it was at, it makes you perform better, it's not just about racing.
"She totally developed my mindset as a swimmer and all the way through and to the big pinnacle of my career so far, qualifying for the Olympics.
"It's working really well just now - we're a pretty good team."
Fellow swimmer Scott Quin, 22, is similarly confident in his coach's abilities.
"Last season I was still training behind everyone in the squad and Laurel pushed me, and said: 'right, you're doing this Scott'.
"She makes the sets challenging and really intense. If you're not performing well she gives you a kick up the bum and says, 'what are you playing at? get it sorted.'
"She knows what she's talking about."
IN DETAIL