History meets technology as Wester Hailes digital totem pole launched
The innovative project will allow community members to access local information and history using QR codes.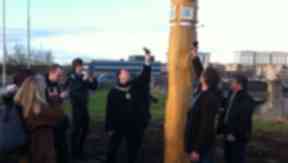 Technology and local history have come together with the installation of a new sculpture in Wester Hailes.
A 'digital totem pole' has been created which will give community members the chance to find out more about the area's past as well as keep up to date with everything that is going on now.
Erected between Westside Plaza and Union Canal, the 4.5 metre pole features state-of-the-art quick response (QR) codes which can be scanned with smartphones which link to an online resource with community news, advertisements and local services.
Codes will also direct users to internet social history collections like the Facebook page From Here to There, which posts archive material from the West Edinburgh Times and Wester Hailes Sentinel.
Wester Hailes Art for Leisure and Education (WHALE), a community arts organisation set up 20 years ago, is one of the key organisations behind the project.
WHALE creative director Alison Reeves said: "These QR codes are in the geographical community and are linking people to the online community; we're finding ways of making social media relevant.
"It's quite a tricky thing to do because the online community is often a series of people sitting in their bedrooms. What is most crucial is we find out what local people would most likely use the online resource for.
"It might be it becomes more of a bulletin board or a pin board, or more like the community newspaper we used to have for things like small ads, local events and shops' special offers."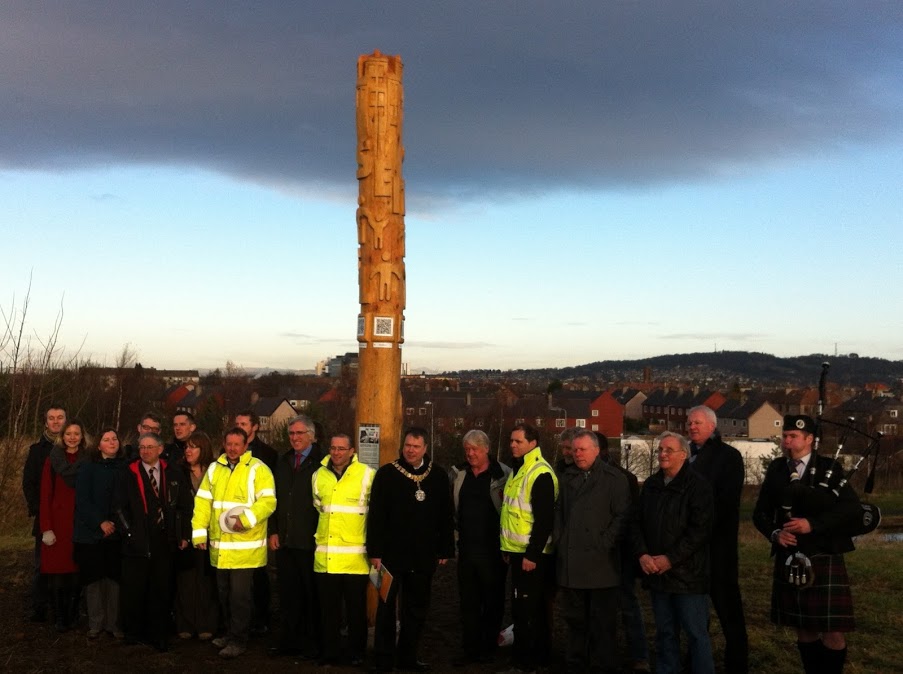 Community members, volunteers and local politicians gather to launch the totem pole. Pic: Graham Budd.
The project is the result of a collaboration between WHALE Arts, Prospect Community Housing, Wester Hailes Health Agency, the University of Edinburgh, Heriot Watt University and RCAHMS.
The digital pole will link to a booklet detailing a series of walks throughout the west Edinburgh suburb.
The books, created in collaboration with Edinburgh College of Art, aim to encourage people to stay healthy by following the routes, based on walks by Wester Hailes Health Agency, and to learn more about the area's history.
Volunteer Eoghan Howard will be helping to guide people on the walks.
After watching the totem pole being erected, he said: "It was a long haul but more than worth it, now we hope for there to be a series of workshops to show people how it can be used to download and upload information.
"I want to help maintain the continuity of this project."
Constructed between 1967 and 1974, the relatively new area of Wester Hailes was previously the site of 24 high rise blocks, 18 of which have since been demolished, and housed up to 18,000 people at one stage.
Despite the influx of residents, the estate initially lacked sufficient transport, services and schools, resulting in a series of campaigns amongst community members, who also fought back over sub-standard council housing.
In 1989, a major regeneration project was implemented in the area, which was then one of the most deprived in Scotland.
In recognition of Wester Hailes' history, artist Robin Wood involved local volunteers to carve the digital totem pole, giving them the opportunity to input their own designs and ideas on what would work best for the community.
Alison added: "We ran a series of design workshops that were open to all and were dotted all over. We got them to turn their ideas of what Wester Hailes community is like into symbols in the same way Native Americans use symbols.
"This project is about the democratisation of digital media - we feel it can be quite exclusive, but it's an amazing free resource for communities, bringing real benefits to people, and we want to encourage people to do that.
"We hope by placing something that's as prominent as the totem pole it encourages people to interact and ask questions in a way it wouldn't if it was just online."
As part of the project, entitled Our Place in Time, community members will attempt to develop an online community-run newspaper to replace The West Edinburgh Times, previously the Sentinel, which was forced to close in 2008 after funding was cut.
Lord Provost Donald Wilson, said: "WHALE Arts and the many partners and volunteers involved in this fantastic and quite unique community project deserve a huge amount of credit.
"I'm sure the totem pole will soon become a well-known local landmark and visitor attraction as well as a valuable source of community information and history – staying true to its historical purpose, but with a modern twist."
Video courtesy of Graham Budd.
IN DETAIL