Magic of The Snowman brought to life for children with disabilities
Scotland's first relaxed theatre performance leaves children 'spellbound' with The Snowman.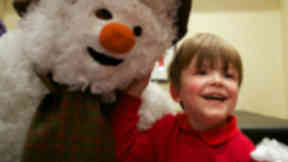 Today, almost 300 children stared spellbound at a gilded stage for the first time in their lives and watched a real little boy and his snowman hold hands, take to the air, and fly through a night sky of glittering snow and stars.
There are many different kinds of magical moments, but this must rank as one of those most likely to touch the heart.
Not just for the children, many of whom had never stepped into a theatre before, but for the teachers, theatre staff and even the cast themselves, who were granted the honour to see and share in the reaction of a very special group of young people.
Around 450 children, teachers and carers from six special schools in Edinburgh were invited to Scotland's first ever 'relaxed' theatre performance.
It took almost a year in planning to get funding, time and dedication to get ramps installed, greater wheelchair access and the production amended to suit their invited guests, but the Festival Theatre has managed to put on a special showing of the classic The Snowman.
"We've been able to take smaller groups of children to the theatre before, but never on this scale. It's absolutely wonderful," says Lorna Cavaanah, an NHS schools nurse here to take care of the medical needs of some of the children.
"It's huge to do this because of the complex health needs of our children. It's a huge undertaking.
"I never saw The Snowman as a little girl myself but I know the song 'Walking in the Air by heart. And the Irn Bru advert too of course," she laughs.
"Mainstream schools always gather together to go to shows, so it's nice that for the first time in Scotland, specialist schools and complex needs schools can be given the chance to do this too."
Behind her, buses are pulling up from all over the city, filled with excited children wrapped in tinsel, all clutching the hands of their teachers and carers.
Waiting at the doors, the entire Festival Theatre staff has gathered, from managers to finance to even a woman meant to be off on maternity leave – all have come together to help out.
"How could we not," says one of the workers smiling, sporting a festive Santa hat. "Just look how excited they all are."
Schools attending include Braidburn, Prospect Bank, Oaklands, Redhall, Pilrig Park and St Crispin's who all assisted with helping the theatre ensure the performance perfectly fitted the young guests.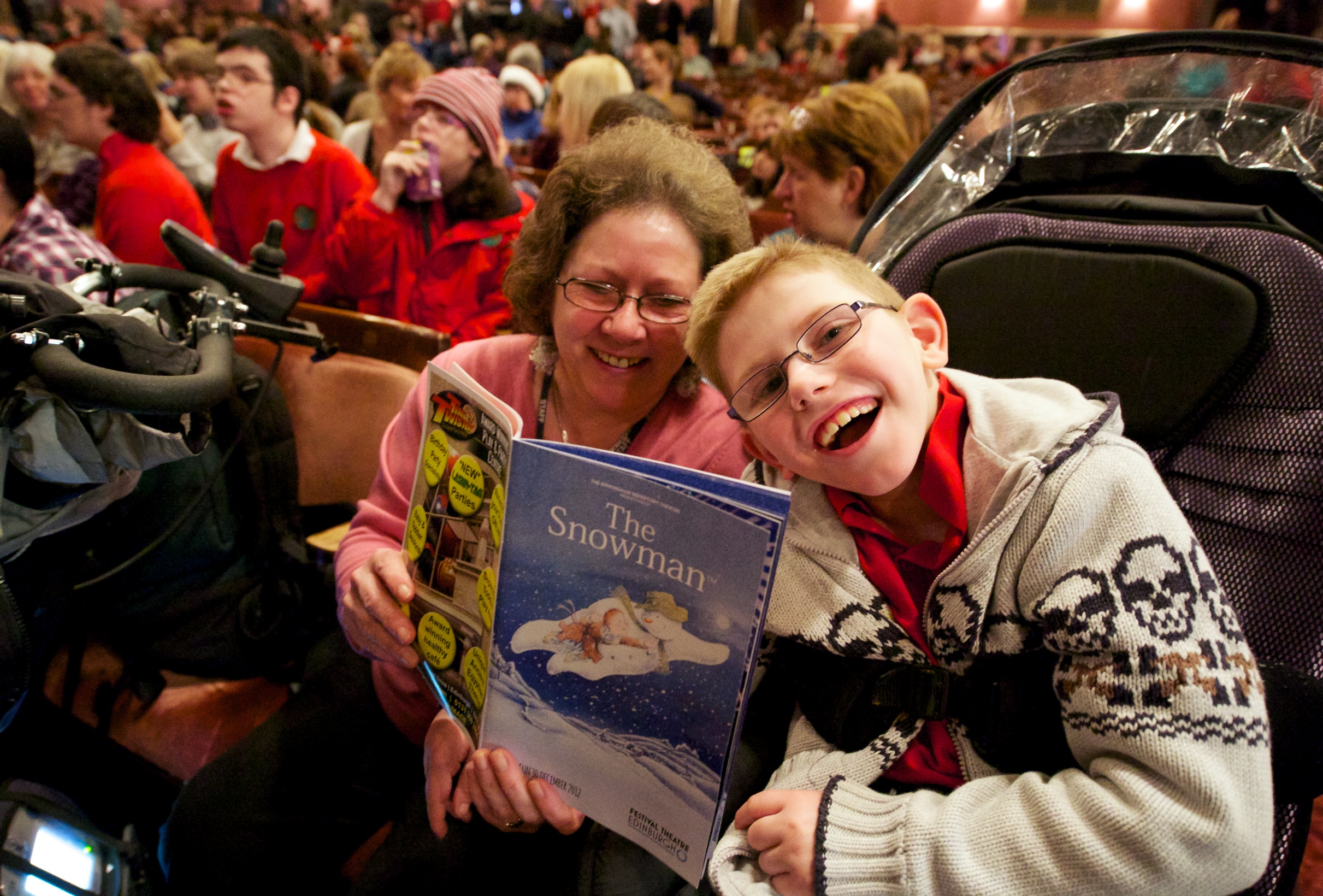 Relaxed Performance audience members Jackie Thomson and Lewis Johnson, 10, from Braidburn School.
"It's been an amazing project, truly special and the help from everyone has been invaluable," says Cerin Richardson, Learning & Participation Manager at the Festival Theatre.
"We've had to assist in changing a few things to make it suit the audience, for example the fake snow we usually use is too strong for children with autism who can react to it – so we've been creative and used lights instead which we hope they'll like.
"What we hoped to achieve was offering a truly accessible experience of theatre to children who never normally have that opportunity. To provide them with a relaxed environment in which to enjoy what most theatre goers take for granted and enable the children to respond exactly as they wished in a supportive setting.
Sponsored by the generous support of management firm Walter Scott & Partners, the children were able to travel to and watch the performance for free and share in a story which has enchanted children for generations.
"On a scale of one to ten we're all probably at ten on the level of excitement at the moment," laughs Barbara Smith, a teacher from Braidburn School.
Beside her, her class gaze around in wonder at the bright colours of the auditorium and brush their fingers repeatedly across the velvet theatre chairs.
One little boy waves excitedly at every person that walks past him while next to him a small girl stares entranced in front of her as hundreds of pale lit snowflakes fall gently onto the floor of the stage.
"Our whole school is here, the buses have dropped all the children off and we've had to organise a high level of support for them to make this happen," explains Barbara. "Many of the children are gastric-fed through tubes in their stomachs so we have to cater for that and bring lunches for others.
"It's really nice and really important for special schools to get together like this and do things. Some of the kids have never even had the chance to go to the theatre before.
"We've prepared them with videos and music of The Snowman beforehand so they can get used to the sounds. It's a great production for them because so many of them like the visual – it's easier for them to not have too much language getting in the way."
"It is quite strange for them because it is a totally different place and they will feel a bit anxious actually, but we've tried to prepare them as best we can."
"We'd definitely like to see more of these events, it's always going to be a worry for us who care for them that things go right, but it's worth all the organising so they can have a chance to experience this."
Anna McGee, a class teacher at Redhall school, agrees: "It's a great opportunity for the children to come along and see such a large show. They're all very excited, they've been looking forward to it all week."
Beside her, her young charge Lachlan is humming away to Frosty the Snowman while his classmates wriggle excitedly, waiting to see what will happen next.
"Changing their routine is always hard and a little scary for them but having a 'relaxed' performance means that there's no stress on them," explains Anna.
"Trying to get children like ours to sit quietly through a performance is quite difficult so having it the way it is, tailored for them, is just great. We'd love to see more of these for our kids."
"We hope this will be the first of many such performances," assures Cerin. "It's all gone well so far, so fingers crossed everyone enjoys it."
But as the lights dim slightly and a small boy on the stage wakens, ready to build his Snowman friend to the gasps and delight of his audience, it would seem all concerns of staff fade to nothing.
And at the far back of the auditorium, as an even younger little boy lifts up his picture of a Snowman and twirls it in the air above his head, it would seem that as far as magical moments go, for this small boy, The Snowman is one that will stay with him forever.