Elderly woman taken to hospital after explosion in bungalow
It is not known what happened to the 82-year-old's home in Whitecraig, East Lothian.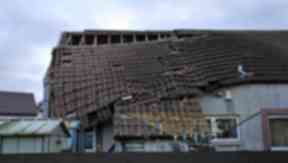 An elderly woman has been taken to hospital and neighbours evacuated after an explosion in an East Lothian bungalow.
The 82-year-old, named locally as Juanita Tuckey, suffered burns to her hands and lower arms as a result of the blast, which happened just before 1pm on Friday.
The pensioner was taken to Edinburgh Royal Infirmary after neighbours called the emergency services.
Fire crews switched off the gas and electricity supplies at the property on Carberry Court in Whitecraig, East Lothian during checks to the house.
One neighbour said: "It was a very loud but strange noise. It was as if something fell off the back of a lorry.
"We stay a few doors away and we were evacuated as a precaution. Ms Tuckey lives on her own so I hope she's OK."
The bungalow is semi-detached and the roof is now bowed in the middle with tiles now missing or fallen to the ground.
A Lothian and Borders Fire Service spokeswoman said: "We were called to an incident at Carberry Court at 12.55pm. A neighbour reported an explosion.
"On arrival an 82-year-old woman was taken to the Edinburgh Royal Infirmary with burns to her hands and lower arms. Gas and electricity were also isolated as a precaution. We have now handed things over the East Lothian Council.
"The cause of the explosion is still being investigated by the gas board."
Crews are now working to secure the council property so an investigation into the cause of the blast can take place.
Frank Fairgrieve, principal surveyor at East Lothian Council's building standards department, said: "We don't know how long it will be until we can determine what happened.
"Safety is paramount and the roof is in such a way that it would be dangerous to enter in case it collapses. We need to secure a perimeter then let the demolition workers enter to secure the roof. At that point entry will then be granted to investigators to determine the cause of the explosion.
"The gas supplies have also been isolated and as it is a semi-detached building the next door neighbours have been temporarily relocated."