JK Rowling and Donald Trump captured in three decades of Napier photography
Pictures taken by Napier alumni from the past 30 years exhibited to mark university department's move to new home.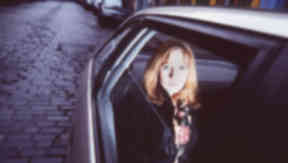 Harry Potter author JK Rowling, White Stripes singer Jack White and residents battling against Donald Trump all feature in a forthcoming photography exhibition in Edinburgh.
The series of images, which span three decades of Scottish history, are part of a programme to mark Edinburgh Napier University's photography department's move to a new home.
In December more than 100 former students at the university - including photographers and filmmakers from Spain and the United States of America - returned to the Scottish capital to celebrate the success of its Marchmont campus.
The site has closed due to redevelopment with classes now operating from the new Merchiston campus.
The move brings to an end 36 years of study at Marchmont and images taken by alumni are being exhibited to celebrate both students, and the university's achievements.
One of the photographers who will be featured is Alicia Bruce, who documented the fight of residents on the Menie Estate against American businessman Donald Trump's new golf course.
The controversial development generated headlines across the globe, and Alicia, a freelance photographer whose work is featured in the National Galleries of Scotland, caught much of the drama on camera.
Originally from Aberdeen, she studied at Napier in 2002. Her passion for community issues and environmentalism drew her to the story of the residents, including farmer Michael Forbes who refused to leave his home.
"I got involved as I was just curious," she said.
"I had seen Michael Forbes in the press and he was made out to be this angry farmer, but I just wanted to meet him and make my own mind up.
"I was working there the same time Anthony Baxter was making his film You've Been Trumped. I was really keen to give them (the residents) a platform to speak from, and a positive outlet to represent themselves."
Alicia has been taking pictures of the Menie Estate since 2010 and her work is featured in the project Menie: a portrait of a North East community in conflict.
Alicia Bruce's picture of Mike and Sheila Forbes on the Menie Estate
The 33-year-old, who has also had her work displayed at the Royal Scottish Academy, described seeing her old Napier friends and classmates as "quite emotional". She is now looking forward to being featured in the new exhibition, which is to take place on a date to be confirmed later this year.
Alicia added: "I had not been back in the building for the past few years so it was a nice big party. The personal interaction with my lecturers and classmates is what I remember most from Napier.
"It is nice to be in the company of so many great photographers and to see all the work from people over all the decades."
Alistair Scott, Group Leader of the Film and Photographer course, said: "The exhibition gives a fantastic snapshot of the talent to have graduated from Edinburgh Napier's photography programmes over the last three decades.
"Our students have not only gone on to have successful careers in the field of photography but also in curatorship, editing and journalism. Our ambition has always been to produce not only technically competent and creative graduates but students who are academically strong too.
"I am sure the exhibition will act as a real inspiration to our current students who have the bonus of working in brand new state-of-the-art facilities at Merchiston Campus."