Edinburgh timelapse video on course for almost two million online hits
Video clip of city in winter by award-winning filmmaker Walid Salhab goes viral.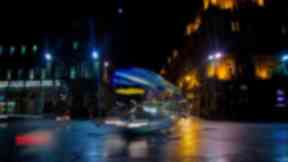 It began as an experiment, a dabbling in the realms of film and photography combined with a passion for the city who had adopted him as her son.
Yet for Edinburgh lecturer Walid Salhab, it was an idea that would go on to be shared with well over a million people worldwide.
A timelapse video that the award-winning filmmaker released online, capturing the beauty of Edinburgh in winter, has reached almost two million views in just a few weeks.
Originally meant as a way to test new techniques for his current film, the stop-motion video made up of around 20,000 still images went viral over the festive season.
With scenes of Leith harbour glowing with snow, to the bright lights of the big wheel glimmering off the Scots monument, Walid managed to capture time itself and present the beauty of the city in a whole new light.
As Walid, 52, said at its release in December: "I hope people will watch it and remember the areas of the city in it which they might have memories of. And hopefully people from all over the world will watch and realise what a beautiful place Edinburgh is to visit."
A lecturer at Queen Margaret University, Walhid has already had work appear at the Cannes Film Festival and won a Best Shorts award in California for his first short film, Bra-et Al Rouh (Innocence of Spirit), which sees a six year old Palestinian girl befriend a homeless man in Edinburgh.
Quietly producing local videos for the last 20 years, Walid's latest timelapse video was an experiment for his next offering to the altar of film - Avaritia.
Avaritia ( Trailer) from walid salhab on Vimeo.
Filmed in Edinburgh's city centre and Portobello, Avaritia which is Latin for 'Greed', tells the story of a money obsessed banker who has been corrupted by the banking culture.
Isolated and searching for something positive, he remains trapped by the materialistic world which he has created.
"We live in such a consumer driven society that sometimes we forget the important things in life like health, happiness, family and friends," explains Walid.
"The main character in the film views everything and everyone as a way of accumulating more wealth - that's why he is trapped.
"The actor Robert Welsh is co-producer of Avaritia, and he stars in nearly all of my productions. Over the years he's portrayed a priest, a geek, a homeless man and now a banker."
Completion of the film is expected to take around seven months as Walid has to work around full-time teaching commitments and commercial projects at Queen Margaret University.
Walid explains: "Filming in various locations in Edinburgh has been a crucial part of my research and I am now able to use these techniques in the new film. It is very difficult to create a fictional story which combines time lapse/stop motion film.
"The visual element of the story needs to be very strong because there is no dialogue.
"The trailer differs from other movie trailers - is like a mini short film in its own right. The trailer has a different story but the same message as the short film.
"We have used it to see if this process actually works and fortunately, the positive feedback from other filmmakers suggests we're on the right track."
You can view the 'Avaritia' trailer on Vimeo now and 'Bra-et Al Rouh' is also to be screened as part of the International Festival of Middle Eastern Spirituality and Peace on February, 21, at the Edinburgh Filmhouse.